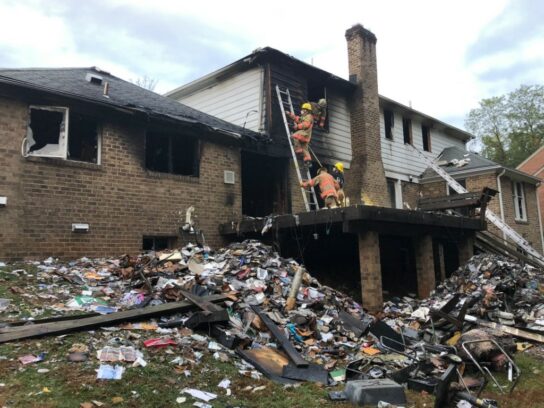 Firefighters responded to a fire Monday morning in Potomac causing over $800,000 worth in damage.  
The fire started at 2:45 a.m. in a two-story, single-family home on the 7600 block of Persimmon Tree Lane. 
Eighty-five firefighters battled the heavy fire load and after several hours were able to get it under control. The person in the home got out safely. One firefighter was injured and is receiving treatment for an unspecified medical emergency.   
According to Pete Piringer, the spokesperson for Montgomery County Fire and Rescue Services, the fire was due to an unattended pot left on the stove. There were no working fire alarms in the house.  
Update – 1 FF injury (medical) 7600blk Persimmon Tree La, Potomac; NO smoke alarm; Cause, unattended cooking; Damage, >$800K; occupant got out ok; heavy fire load, hoarding conditions; ~85 @mcfrs FFs responded pic.twitter.com/BK4clq0gYf

— Pete Piringer (@mcfrsPIO) October 7, 2019
Officials said that the person in the house observed the smoke and attempted to call authorities but couldn't because the phone was in the kitchen.  
A neighbor called to report the fire, officials said.  
Firefighters will return this evening to check smoke alarms and discuss other safety items.  
'NOTICE: 4-6p 10/7 'After-the-Fire' @mcfrs FFs will return to Carderock Springs/Potomac neighborhood this evening IAO 7600blk Persimmon Tree Lane, Comanche Ct, Lily Stone Rd, Fenway Rd – going door-to-door checking smoke alarms & discussing other fire safety items pic.twitter.com/1G4X6L4v5E

— Pete Piringer (@mcfrsPIO) October 7, 2019