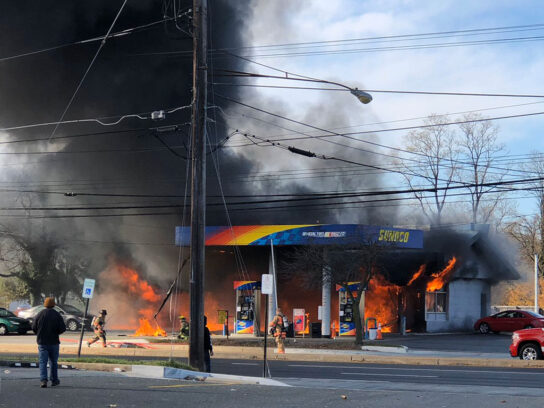 More than 80 firefighters responded to a blaze at the Sunoco gas station, at 790 Hungerford Drive in Rockville shortly after 10 a.m. Friday.
Montgomery County Fire and Rescue Spokesman Pete Piringer says a fire chief from Rockville's Volunteer Fire Department originally noticed the fire, while he was passing down Md. 355. When firefighters were dispatched to the scene, the fire expanded quickly because of gasoline fumes, and some other flammable materials.
Store owners and patrons were able to get out safely and no one was injured from the fire. Piringer said firefighters used some foam, which is used in a petroleum fire.
Piringer said the fire originated in the service bay area, when mechanics were working on a fuel pump and "fumes were ignited by a nearby kerosene space heater." As a result, of the fire caused $1 million worth of damage.
Update – Sunoco Gas Station, 790 Hungerford Dr, Rockville; Cause, accidental, mechanics working w/ vehicle fuel pump & fumes were ignited by nearby kerosene space heater; Area of Origin, garage service bay (unvented); Damage, ~$1M; no injuries; 2nd Alarm ~85 @mcfrs FFs responded pic.twitter.com/bA7epextAq

— Pete Piringer (@mcfrsPIO) November 15, 2019
"The only things that are not damaged are the gas pumps and even the overhang's a little damaged. There were several vehicles in the bays — it's a three-bay gas station — you have a mini mart here also, so that was a total loss," Piringer said.
The fire caused significant delayed through the afternoon on the Rockville Pike and between the Rockville Town Center and Montgomery College because roads were closed as crews worked to put out the blaze.
https://www.instagram.com/p/B45fN2vhil2/