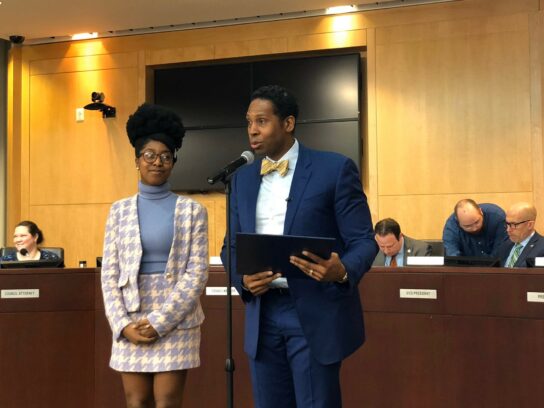 Montgomery County Councilmember Craig Rice presented a proclamation recognizing the first African-American Councilmember for a Day contest winner. The opportunity is meant to give high schoolers access to local government operations.
Adjo Evonlah is a senior at Northwest High School in Germantown and the CEO of Pouchful, a company that provides environmentally-sustainable lunch bags for students. Rice said she's interested in law, journalism and business.
#HappeningNow: Councilmember @RicePolitics is presenting a proclamation recognizing Councilmember for a Day contest winner Adjo Evonlah. pic.twitter.com/Rdq1IhiR89

— Montgomery Council (@MoCoCouncilMD) February 25, 2020
"Our future is bright, folks," Rice said. "Because when we have young leaders like this, I know that great things are going to abound."
Applicants for the contest picked a public policy topic that concerned them and wrote an essay or created a video with suggestions of how leaders can address it. Evonlah chose the issue of vaping.
"Our generation really could've been the generation that stopped smoking," she said. "We know the dangers of cigarettes, it's widespread at this point and Juul kind of just ruined that for us. But that doesn't mean it's too late and it doesn't mean that we can't fight."
Evonlah will participate in a full council meeting as part of her day.
Adjo, the first African American Councilmember for a Day contest winner, wrote an essay about the effects of vaping. #LeadersOfTomorrow pic.twitter.com/lXDhg2w95c

— Montgomery Council (@MoCoCouncilMD) February 25, 2020