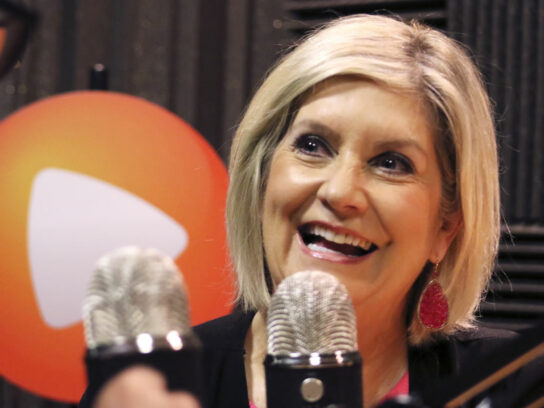 The first snow of the year – and decade – has begun. Montgomery County schools have already been let out early. Many after-school and evening events have been canceled. These are the kind of days that meteorologists dream about. It's their Super Bowl. Sue Palka, the dean of TV weather prognosticators in the DMV, is in her 35th year forecasting the weather at FOX5. When snow is on the way, she is on high alert.
The longtime Montgomery County resident told MyMCMedia, "I've been forecasting snow for over half my life and the first one never fails to make me ridiculously giddy. It's like a throwback to childhood even though as an adult it means more work for me."
A busy time for sure but that's when most people watch TV for the weather. Palka knows full well how snow can impact people's lives in both negative and positive ways. "I especially enjoy the way our first snow transforms the landscape and if it's big enough it even insulates sound. For many people, it's a chance to break away from their routine. I can't wait to watch my 2 year old granddaughter experience the snow," Palka said. "Full disclosure: I definitely won't have the same feeling by the end of March!"
You can watch Palka on FOX5 and follow her on Twitter at @suepalkafox5dc.
Palka was a guest on MoCo's Most Famous podcast in 2019.