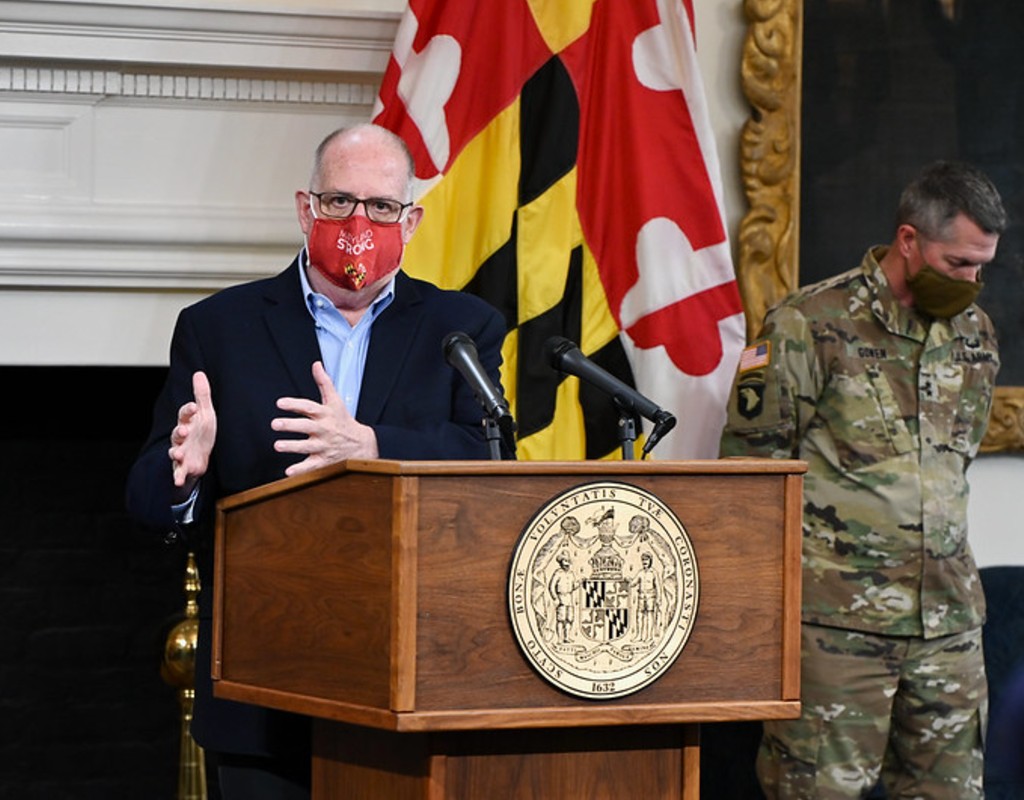 Five Takeaways from Hogan's COVID-19 Press Briefing Tuesday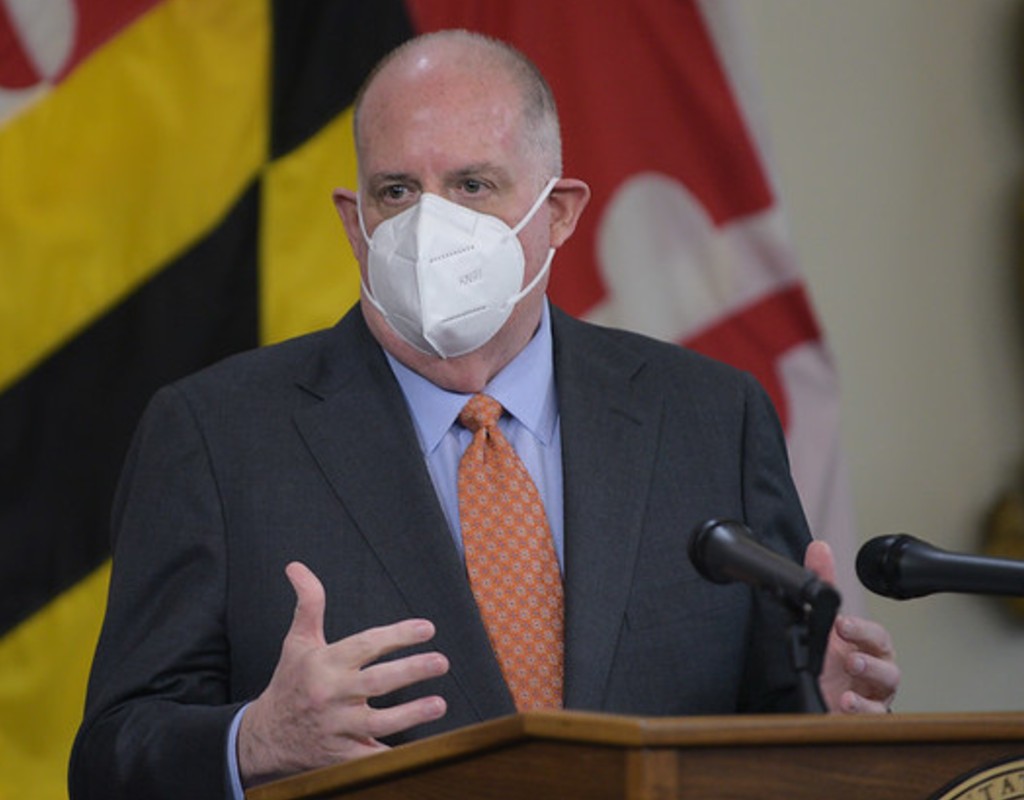 In a press briefing on Tuesday, Gov. Larry Hogan noted that the anniversary of the first confirmed coronavirus cases in Maryland is approaching.
On Monday, the United States surpassed 500,000 coronavirus-related deaths since the start of the pandemic. Hogan said the state mourns the loss of all Americans and Marylanders who died of the virus.
I provided a series of COVID-19 updates this afternoon, including the opening of a new mass vaccination site in Southern Maryland and expanded surveillance of COVID-19 variants.

Details: https://t.co/hmPHr1LRss pic.twitter.com/CuP3OIQfpy

— Governor Larry Hogan (@GovLarryHogan) February 23, 2021
Here are five takeaways from Tuesday's press briefing:
Mass Vaccination Sites: A new mass vaccination site is opening at M&T Bank Stadium in Baltimore City on Thursday and there are already 10,000 appointments. Hogan said that a fourth staterun vaccination site will open no later than March 11 at Regency Furniture Stadium in Charles County—this site will be supported by FEMA.  Sometime in March, Maryland will launch a statewide pre-registration website to make appointments at state-run mass vaccination sites. Hogan told reporters that the state is open to having a mass vaccination site in Montgomery County, but at this time there are not enough vaccines to do so.
State is Expanding its Surveillance of Coronavirus Variants: The state has entered agreements with the University of Maryland and Johns Hopkins University "to more than double the state's surveillance of coronavirus variants to screen more than 10% of cases." Dr. Jinlene Chan, the acting deputy secretary of the Maryland Department of Health, noted that in Maryland there are more than 60 cases of the UK, Brazil, and South Africa coronavirus variant—the majority of which are the UK variant. As the state continues to study these variants, Chan urged Marylanders to continue wearing a mask.
Expected Approval of Johnson & Johnson Vaccines: Hogan said the White House notified governors to "expect allocations of the single-dose Johnson & Johnson vaccine—which is being made here in Maryland—as early as next week."
Face Coverings Required in Schools: Hogan signed an executive order clarifying that "masks are required for anyone over the age of 5 in any area of school setting where interaction with others is likely."
Vaccine Fraud on Rise: Hogan urged Marylanders to report vaccine scams to the authorities, saying, "I want to make this very clear: No one can sell you a vaccine, no one can charge you a vaccine, it is free."
The state has entered into agreements with @UMBaltimore and @JohnsHopkins to more than double the state's surveillance of coronavirus variants. This new partnership will give Maryland one of the strongest surveillance systems in the country and the world.

— Governor Larry Hogan (@GovLarryHogan) February 23, 2021
To further support the safe reopening of schools, I have issued an executive order clarifying that face coverings are required for anyone over the age of five in any area of a school setting where interaction with others is likely, including classrooms.

— Governor Larry Hogan (@GovLarryHogan) February 23, 2021
Recap of Hogan Press Briefing By Tweet
Here's a play-by-play of Hogan's press briefing in Tweet form:
Hogan notes that the one year anniversary of the first COVID case in Maryland is coming up in 10 days. The testing positivity rate is at its lowest rate since Oct. 31, Hogan says. He says hospitalizations have been going down these last six weeks. @mymcmedia

— Deirdre Byrne (@DeirdreByrneMCM) February 23, 2021
Hogan said the state has been testing for covid-19 variants.

The state has just entered agreements with UMD and Johns Hopkins to screen and sequence more covid-19 variants.@mymcmedia

— Deirdre Byrne (@DeirdreByrneMCM) February 23, 2021
On Thursday Maryland will open another mass vaccination site at the 55,000 square feet M&T Bank stadium – home of the Baltimore stadium. The first 10,000 appointments have been booked, Hogan said.

There will be another mass site opening in Charles County soon.@mymcmedia

— Deirdre Byrne (@DeirdreByrneMCM) February 23, 2021
Hogan said the state will launch a statewide system where people can sign up for vaccination appointments at the mass distribution sites. @mymcmedia

— Deirdre Byrne (@DeirdreByrneMCM) February 23, 2021
Hogan said he had a call with the White House this morning and the governors pressed for more vaccines.@mymcmedia

— Deirdre Byrne (@DeirdreByrneMCM) February 23, 2021
Hogan enacted the following order today: "masks are required for anyone over the age of 5 in any area of school setting where interaction with others is likely."@mymcmedia

— Deirdre Byrne (@DeirdreByrneMCM) February 23, 2021
If you suspect any covid-19 fraudulent activity, you should report it to law enforcement, Hogan said. @mymcmedia

— Deirdre Byrne (@DeirdreByrneMCM) February 23, 2021
These strains are identified in Maryland: UK variant, South African variant, and the Brazil variant.

Overall, there are 1,600 documented variant cases in the U.S. – and there are about 60 variant cases in Maryland (most in the country and MD are the UK variant). @mymcmedia

— Deirdre Byrne (@DeirdreByrneMCM) February 23, 2021
Some of the Johnson&Johnson's vaccine trials were conducted in South Africa, which might be helpful for understanding the South African variant more, Chan said. @mymcmedia

— Deirdre Byrne (@DeirdreByrneMCM) February 23, 2021
"If you identify an individual who may test positive for covid-19, especially after vaccination…we ask that you contact us through the local health department…so that we may discuss sequencing may be appropriate in those instances," Chan said. @mymcmedia

— Deirdre Byrne (@DeirdreByrneMCM) February 23, 2021
Health Secretary Dennis Schrader talks about the state's COVID-19 Vaccination Support System. It's available in English and Spanish.@mymcmedia https://t.co/zTSaDEmzsR

— Deirdre Byrne (@DeirdreByrneMCM) February 23, 2021
.@GovLarryHogan is now taking questions.

He said the White House said the FDA could authorize Johnsons&Johnsons as early as Friday and they could start shipping these vaccines to states as early as next weeks (but the White House didn't make any commitments).@mymcmedia

— Deirdre Byrne (@DeirdreByrneMCM) February 23, 2021
Hogan notes that Montgomery County is the largest county in Maryland, and the state is open to considering opening a mass vaccination there, but we would need more vaccines to do that. @mymcmedia

— Deirdre Byrne (@DeirdreByrneMCM) February 23, 2021
Hogan is asked about a streamlined website for registering for vaccines. He said that some smaller states (with populations smaller than some MD counties have tried it). @mymcmedia

— Deirdre Byrne (@DeirdreByrneMCM) February 23, 2021
The single registration vaccine website will only be for statewide mass vaccination clinics.

Secretary Shrader said the state is working through the details of this site now and there will be more info to come in the future.@mymcmedia

— Deirdre Byrne (@DeirdreByrneMCM) February 23, 2021