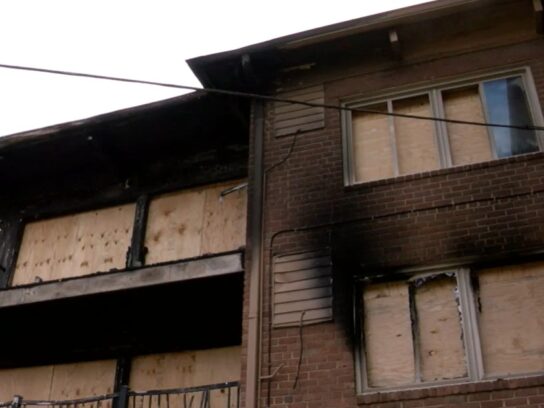 Six days ago, a fire swept through Flower Branch Apartments in Silver Spring, forcing about 50 people to find temporary housing.
As of Friday, 17 families, consisting of 34 adults and 12 children, live out of a hotel in Gaithersburg, struggling to get to work and regain their lives. They have not been permitted back into their apartments although most of them rushed to get out of the fire without gathering any possessions. Their apartments have been condemned.
One woman has been getting by on soups and liquids as she fled the 4 a.m. fire without grabbing her dentures.
"This is a multi-month presence," said Patrick Campbell, the county's senior planning manager in its Office of Emergency Preparedness, Response and Mass Care.
The county and caring residents have stepped up. Montgomery Housing Partnership has raised $83,000 as of Jan. 12. All the funds received will be spent on those who were displaced. The non-profit continues to accept donations.
One almost-three-year-old boy greatly appreciates the scooter he received from MHP. His mother, who asked her name not be reported, said her son is traumatized and still panics every time he hears the police or fire sirens.
Here is what Campbell told MyMCM.
The fire destroyed or damaged 15 apartment units, which are expected to be uninhabitable for three to four months. All the relocated adults are foreign-born and speak Spanish, French or Amharic.
According to Montgomery County Fire and Rescue Services, the fire at 8853 Garland Avenue, was most likely caused by a candle left burning on a plastic storage bin in a second floor apartment. Damage was estimated at $375,000. Many of the residents had to be rescued by firefighters as the stairs were not useable.
Campbell basically has taken over a conference room in the hotel, and together with an integrated care team, has been seeing to the needs of the dislocated and working to get them into housing.
It is not an easy task as the county has few vacant low-income housing units.
Meanwhile, a school bus picks up the children each weekday morning and takes them to their schools.
La Villa Restaurant, which is located close to the hotel, has been making lunches and dinners. Both meals are delivered in the late afternoon so that those who work the next day already have a lunch to take with them. The hotel provides a hot breakfast.
Councilmember Tom Hucker said those displaced had hoped to be relocated closer to their apartment complex, but Campbell said the manager of the Gaithersburg hotel had room and offered reduced charges. Everyone still can get to their jobs, Campbell said.
Flower Branch Apartments 4 AM building fire w/ numerous rescues & dozens of people will be displaced https://t.co/KbWJ87Vwz5

— Pete Piringer (@mcfrsPIO) January 8, 2022
(1/8) ~4a Garland Av, upon arrival, 15 minutes later, numerous people evacuated burning bldg, including 1 resident who jumped from 2nd floor fire apt (before FFs got there) & many others assisted by FFs using 'rescue' ladders (occupants could not use stairwell to get out) https://t.co/cR4NxOXkvW pic.twitter.com/iIfvGiMvf3

— Pete Piringer (@mcfrsPIO) January 8, 2022
ICYMI (~4a) 8500blk Garland Av, 2-Alarm apt fire, 1 person jumped & others rescued/assisted by FFs, no injuries, @mcfrs PE716, PE701, PE702, E834P, PE712, T716, AT719, T812, RS801, A716, BC701, BC702, PE719, PE844, AT718, M712, CT705, MAU716, E754, E811, AT807, MAU733 & others OS https://t.co/HBY3M4Urwt pic.twitter.com/niIcBeSOT7

— Pete Piringer (@mcfrsPIO) January 8, 2022