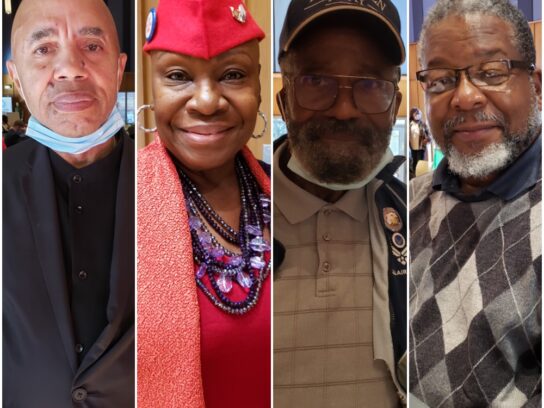 When Bev Whitfield joined the U.S. Coast Guard in 1977, women and minorities were neither welcomed nor valued.
"My first early years, I wasn't treated as an equal," she recalled 23 years after finishing her service. "But as I matured and gained more rank," life in the military became more tolerable, she said.
While proud of all she accomplished, Whitfield believes there is still much work to be done to improve the treatment of women and people of color.
Whitfield was one of the dozens of African Americans who have served or are currently serving in the U.S. Armed Forces who attended Tuesday's appreciation program for Veterans Day at the Silver Spring Civic Center.
The Montgomery County African American Health Program's COVID Response Program, the National Center for Children and Families, Montgomery County Office of Human Rights, American Minority Veterans Research Project and other Montgomery County community groups sponsored the event.
Veterans lunched on fried chicken, shrimp, eggs and sausage as they listened to speakers, found fellowships with other veterans and received information on county resources available to them.
Reginal Fowler, who served in the U.S. Air Force from 1962 to 1966 in Viet Nam, Japan and other Asian countries, is always "real proud" when Veterans Day rolls around. "I always look forward to it. It's like a birthday," said the Montgomery Village resident.
His best memories of those years revolve around "the guys that I served with."
He does not believe the current generation of men and women serving their country carry that same pride. Far too many of them "are doing it for themselves, not the country."
There have been many changes since Steffen Jones of Damascus left the U.S. Navy, where he served on an LST (landing ship, tank) in the mid-seventies.
Back then, there were no women allowed to serve on his ship. During the event, "I just met my first female general."
Another positive change Jones noted is the Veterans Administration health care system. "I never went there when I first came out. It was three or four months wait," he said.
Now, the office in Gaithersburg takes care of his medical needs.
"I am glad they appreciate veterans now more than they did in the day," he said.
Dr. Elwood Gray, who served in Viet Nam in the 1960s as a member of the U.S. Army 101st Airborne Division, said Veterans Day brings up so many memories, both good and bad. "It's a mixture of both, bringing back fine memories of my comrades, but it's sad," he said, when he remembers those who died.
"The strength of our nation is predicated on our military. This is why America is so strong. The strong ones are the nations who can take care of themselves."