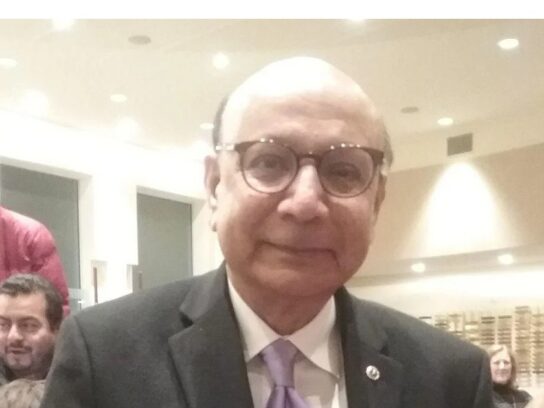 Khizr Khan, the Gold Star parent who gave an impassioned speech at the 2016 Democratic convention denouncing then-presidential candidate Donald Trump for his proposed ban to keep Muslims from entering the United States, is one of 17 people receiving the Presidential Medal of Freedom Thursday.
Khan, a former Silver Spring resident whose sons attended John F. Kennedy High School in Wheaton, now lives in Charlottesville, Va. He is the founder of the Constitution Literacy and National Unity Center and an advocate for the rule of law and religious freedom, according to a statement by President Joe Biden.
Khan served on the United States Commission on International Religious Freedom under Biden. He wrote  "An American Family – A Memoir of Hope and Sacrifice" and "This is Our Constitution – for Middle School Students."
He became famous in 2016 when he asked former President Donald Trump if he had ever read the Constitution.
Also receiving this country's highest civilian honor are Olympic gymnast Simone Biles, former U.S. Rep. Gabrielle Giffords, Apple co-founder Steve Jobs and the late U.S. Sen. John McCain. The award is given to those who have made exemplary contributions to the prosperity, values or security of the United States, world peace or other significant societal, public or private endeavors, according to Biden's statement.
In 2018, Khan spoke at Temple Shalom in Chevy Chase, telling urging the audience, "Try to be the moral compass of the nation."
Khan grew up in Pakistan, where he lived under martial law. He recalled his ration card that had to be renewed weekly, always with the threat looming over his fellow country members that that if they did anything against the government, they could not buy food.
His oldest son, Captain Humayun Khan, was serving in Iraq in 2004 when he approached a taxi, signaling it to stop. The car exploded, and the 27-year-old was killed.
Kahn, as well as all 17 Medal of Freedom recipients, "demonstrate the power of possibilities and embody the soul of the nation – hard work, perseverance, and faith. They have overcome significant obstacles to achieve impressive accomplishments in the arts and sciences, dedicated their lives to advocating for the most vulnerable among us, and acted with bravery to drive change in their communities – and across the world – while blazing trails for generations to come," Biden said in his statement.