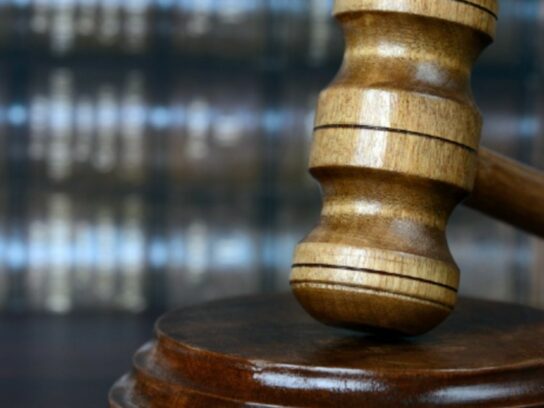 Sean Urbanski, the former University of Maryland student who was charged with fatally-stabbing Richard Collins III on-campus in 2017, was sentenced to life in prison on Thursday with the possibility of parole.
Urbanski, 25, could be considered for parole after he serves 15 years, The Washington Post reported. The governor would have to approve if the parole board recommends it.
In October 2017, Urbanski, a white man, stabbed and killed Collins, a Black man, at a UMD bus stop. Collins, who was 23 when he was killed, was a Bowie State University (BSU) student and was commissioned as a second lieutenant for the U.S. Army. Urbanski was found to be a member of a white-supremacist Facebook group and kept racist memes on his phone, The Washington Post reported, and so he was originally charged with a hate crime along with first-degree murder. However, the hate-crime charge was dismissed after a judge ruled the legal burden had not been met, and Urbanski was convicted of first-degree murder in December 2019.
A former University of Maryland student who fatally stabbed Richard Collins III, a Black Army lieutenant, at a bus stop in May 2017 has been sentenced to life in prison for what prosecutors said was a racially motivated hate crime.https://t.co/r6IsFfvMAO

— NPR (@NPR) January 15, 2021
At the time, Maryland's hate crime statute required that a crime be fully motivated by hate to fall under that category. After Urbanski's conviction, Collins' family moved to change that and as of Oct. 1, 2020, the state's hate crime law was expanded to include substantial partial motivation. In a letter to the UMD community, President Dr. Darryll Pines acknowledged the new law, called "2nd Lieutenant Richard Collins, III's Law," and said UMD is grateful for the Collins' family close work with the university and with BSU.
Our hearts are with Richard and Dawn Collins and the entire Collins family.

Today, a now-former UMD student was sentenced to life in prison for the first-degree murder of Lt. Richard Collins III, a crime that many considered to be motivated by hate. https://t.co/OpJJUd9i8N

— Dr. Darryll J. Pines (@President_Pines) January 14, 2021
"We will carry forward the memory of Lt. Collins as we make plans for a physical memorial on campus to commemorate his life and memory. We are currently working with the Collins family on its location and design. At the appropriate time, we will communicate to our campus community about the memorial site," Pines said.
Bowie State University President Dr. Aminta Breaux offered condolences to Collins' parents and reflected on the student's legacy.
"One exemplary Bulldog was Lt. Collins, who left an indelible mark here at Bowie State University. He was willing, ready and well prepared to serve in the Army to defend our nation and the values of a democratic society. We remain committed to preserving his legacy of academic excellence and patriotism by supporting every student in our community," Breaux said in a statement.
"Let us honor Lt. Collins by advocating against racism and injustice in our society and taking up our civic responsibility to enrich our communities. We can honor his memory by remaining invested in our communities, particularly through the work of the Lt. Richard W. Collins III Foundation and the Bowie State University and University of Maryland Social Justice Alliance, which remain committed to addressing critical issues facing campuses and the nation. We must all do our part in supporting the inclusivity of all citizens in our communities and protecting our democracy."
.@BowieState sends its condolences to Dawn and Richard Collins, Jr., who finally saw the man who murdered their son, Lt. Richard Collins III, be sentenced to life in prison. Full statement here: https://t.co/0VHQjWCaxX pic.twitter.com/34H2IlBKuM

— Dr. Aminta H. Breaux (@PresBreaux) January 15, 2021