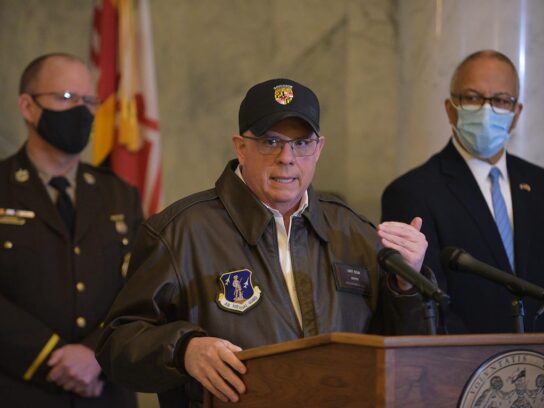 Gov. Larry Hogan issued a proclamation Friday declaring a state of emergency for the upcoming Presidential Inauguration on Jan. 20. According to the governor's office, the executive action would allow the state to better coordinate and assist local jurisdictions and neighboring states in regards to security operations.
Hogan is also seeking federal assistance from the White House, asking for a Presidential Disaster Declaration, so that the state and local governments can be reimbursed for the costs of responding to the Jan. 6 attacks on the U.S. Capitol. The declaration would also be used as reimbursement for the continued security the state has been providing to support federal partners and Washington, D.C. in the days leading up to the inauguration.
"The State of Maryland will continue to do everything we possibly can to secure our nation's capital and to ensure the peaceful transition of power," Hogan said in a statement. "We did not hesitate to provide critical support during the January 6 insurrection, and will continue to work closely with allied agencies, local governments, and our federal partners to support the Inaugural Ceremonies."
Here is a summary of the precautions we're taking to secure the State House complex. pic.twitter.com/elfvzVr9rP

— Michael Ricci (@riccimike) January 15, 2021
In Hogan's letter to the Trump administration, he also requested that the cost-share required by the Stafford Act be waived, considering the inauguration's nature as a federal event.
The news comes after Hogan issued a joint statement Monday with Virginia Gov. Ralph Northam and Washington D.C. Mayor Muriel Bowser, urging Americans to avoid visiting D.C. for the Inauguration due to threats of possible violence. The three leaders instead encouraged Americans to participate in the inauguration virtually.
The FBI also warned that there may be armed protests in all 50 state capitals on Inauguration Day. Hogan said at a press briefing Tuesday that anyone who goes to the State House armed will regret it, adding that the state is not focused on a specific threat to the capital.
"There's disinformation all over the internet…and they're trying to create confusion," @GovLarryHogan said. "We don't have a specific threat that [we're focused on]."@mymcmedia

— Deirdre Byrne (@DeirdreByrneMCM) January 12, 2021
Hogan said Tuesday that he plans to attend President-elect Biden's Inauguration. The state has doubled Maryland's National Guard presence in D.C. from 500 to 1,000 members.
The governor's office explains that with a state of emergency declaration, "Governor Hogan has authorized the Maryland Emergency Management Agency and all other appropriate state authorities to deploy and coordinate available resources in support of local jurisdictions and the citizens of Maryland, and to activate their emergency preparedness plans. It also allows Maryland to receive assistance from other states as part of the Emergency Management Assistance Compact."
Maryland is immensely proud of @MDNG Brigadier General Janeen Birckhead, who has been selected to command the National Guard troops serving at the Capitol.

Thank you to all who are defending the heart of our democracy. https://t.co/YytwNi9gD6

— Governor Larry Hogan (@GovLarryHogan) January 15, 2021