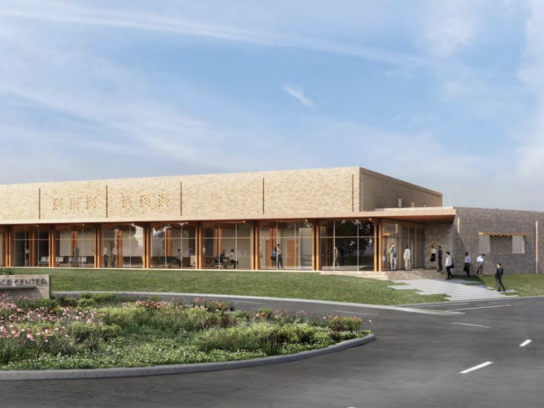 Montgomery County will hold a hybrid community forum next week on a bus depot and restoration center planned for two dozen acres of land along Seven Locks Road in Rockville.
The community forum will take place from 7-9 p.m. on Oct. 6 in the third-floor hearing room of the Montgomery County Council Office Building in Rockville. There will also be a virtual option on Zoom that residents can register for.
The meeting will include presentations from a wide variety of county officials – with participants from health and human services, the police and fire departments and the county corrections office.
The planned 25.8-acre development along Seven Locks Road would house a future Department of Corrections and Rehabilitation Criminal Justice Complex and Restoration Center. It would also be home to a new Montgomery County Public Schools (MCPS) and Ride On bus depot.
The development would allow MCPS to relocate its bus depot from Derwood. The planned Restoration Center would provide stabilization and referrals for people experiencing behavioral health crises.
The proposed development would be immediately adjacent to eight Rockville neighborhoods.
The Rockville Mayor and City Council vehemently oppose the proposed development. The planned restoration center and new bus depot should not be near residential areas, city officials said.
"Residents in the neighborhoods close to the County's property have continually expressed strong opposition due to numerous concerns about the negative impact on public safety, noise and air pollution, and traffic congestion," the mayor and council wrote in an Aug. 9 letter opposing the development to County Executive Marc Elrich.
Rockville officials added that it is "unreasonable" for the county to assume that the Seven Locks Road, Wootton Parkway, and Falls Road intersections can accommodate additional congestion caused by the bus depot relocation.
The county's Fiscal Year 2023 budget includes preliminary plans to demolish several structures on the project site before entering the "planning, design and renovation/modification" development stages for 1307 Seven Locks Road. The original facility was built in 1961.