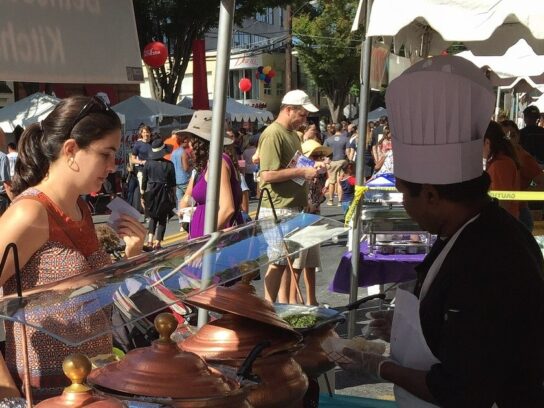 The 31st Taste of Bethesda features five stages of entertainment and food, beer and wine from local restaurants on Oct. 1 from 11 a.m. to 4 p.m.
"We're thrilled to have the Taste of Bethesda return and welcome the community back to our marquis community festival," said Jeff Burton, Executive Director of the Bethesda Urban Partnership. "This year's event will feature nearly 40 restaurants as well as live entertainment and is a great way to try new menu items and support our local restaurants."
The event is located in downtown Bethesda in the Woodmont Triangle on Norfolk, St. Elmo, Cordell, Del Ray and Auburn avenues. There will be musical and cultural performances and a children's area with arts and crafts.
The cost is $5 for four tickets. Food costs one to four tickets.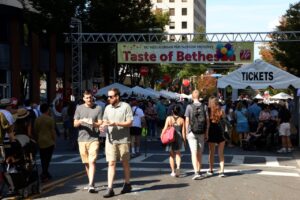 Participating restaurants include Alatri Bros., Avenue Cafe, Benihana, Berries and Bowls, Bethesda Curry Kitchen, BIBIBOP Asian Grill, Big Greek Café, Casa Oaxaca, Chaia Tacos, Chiko, Corella Café and Lounge, Dog Haus Biergarten, Duck Duck Goose, Eat the Change, Hanaro Sushi, Hawkers Asian Street Food, Henry's Sweet Retreat, Kadhai Boutique Indian Cuisine, Leo & Liv, Levain Bakery, Matchbox, Medium Rare, Momo Chicken & Grill, Nothing Bundt Cakes, Oishii Ramen and Tea Bar, The Original Pancake House, Paris in Town, Poke Dojo, The Red Bandana Bakery, Rock Bottom Restaurant & Brewery, Seventh State, Silver, Smoke BBQ, Smoothie King, Spanish Diner, Tacombi, Tout de Sweet Pastry Shop, True Food Kitchen, World of Beer and Zao Stamina Ramen.
There will be musical entertainment throughout the day, with stages at St. Elmo Avenue, Cordell Avenue, Norfolk Avenue, Auburn and Veterans Park.
The event is located three blocks from the Bethesda Metro station. Free parking is also available in downtown Bethesda's public garages. The free Bethesda Circulator will operate to and from the Bethesda Metro station and public garages.
Festival sponsors include Suburban Hospital, Brightview Bethesda Woodmont, The Phoenix Group of Compass, The St. James, Bethesda Magazine and Washington Parent.
Related Post