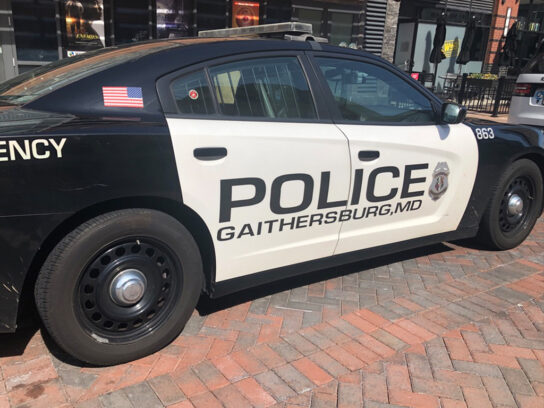 It took a grand jury one hour to declare that four Gaithersburg police officers should not be charged in the Jan. 8 fatal shooting of a 24-year-old man.
According to police, the officers from Gaithersburg Street Crimes Unit approached Kwamena Ocran who was walking on South Frederick Avenue after receiving information he had a handgun. The police identified themselves, and Ocran fled. Police chased him and then shot him. Ocran was pronounced dead at the scene. The police officers were not in uniform as part of their detail and were not wearing body cameras.
According to a reciprocal agreement with Howard County whenever there is a police-involved shooting, the incident was handled by that county. The foreperson of the grand jury there said the majority of jurors did not believe there was enough evidence to charge the officers, according to a report from the Montgomery County State's Attorney's Office.
After several weeks of presentations before the Grand Jury, the jurors have declined to indict the officers involved in the death of Kwamena Ocran. Please see the full report here:https://t.co/JUxYcLVkJU pic.twitter.com/DSCQUOjeQL

— Montgomery County State's Attorney's Office (@MCSAONEWS) October 8, 2021
According to that report, Gaithersburg police monitored Ocran inside his girlfriend's residence in the Chelsea Park Apartments and then approached him. The first office identified himself and showed his badge before Ocran fled. "During the chase, an officer stated Ocran pulled out a handgun, pointed it at the officers and fired. All 4 officers returned fire striking Ocran multiple times which ultimately results in his death at the scene," it stated in the report.
Police decided to conduct the surveillance as they had "credible information" that Ocran carried a gun at all times and said he would "shoot it out" rather than go back to jail. During a background search, police also learned that Ocran was prohibited from possessing a gun due to a robbery conviction.
The report also noted a mistake was made during the autopsy "and Ocran's hands, which were bagged, were never swabbed for GSR," gunshot residue.
Howard County officials attempted to speak with several witnesses, including two young family members of the victim. The twins gave different reports. However, another family member said the young male  "likes to make stuff up based on what he sees on television," according to the report.
Decision of No Indictment Returned by Grand Jury in January 2021 Gaithersburg Police Officer-Involved Shooting
 
Read more here: https://t.co/YX1sAnDoge pic.twitter.com/g34aGhy4QY

— Gaithersburg Police (@GPDNews) October 8, 2021
Others witnessed either didn't respond, were never located or only saw part of the incident and didn't see Ocran with a gun, according to the report.
During the investigation, police found 23 shell casings, all determined to be fired from police.
The four Gaithersburg officers are Corporal Larbi Dakkouni, Sergeant Willie Delgado, Officer James Doyle, and Officer Kyle Khuen.
Gaithersburg Police issued a statement Thursday after learning the grand jury decided not to indict any of the four officers. It noted that an internal investigation is being conducted and that the four officers remain on administrative leave until that investigation is completed.