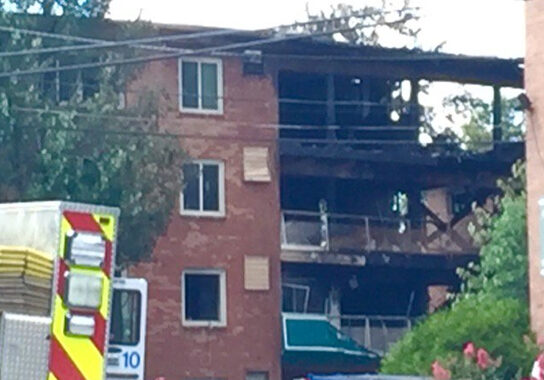 Four years ago today, seven people were killed, dozens injured and hundreds displaced following a gas explosion and fire at the Flower Branch Apartments in Silver Spring.
"This day is always difficult, because I remember hearing the explosion," said Councilmember Tom Hucker. He vividly recalled rushing to the apartment complex on Aug. 10, 2016 and helping residents find emergency shelter.
In April of 2019, the National Transportation Safety Board (NTSB) blamed the tragedy on the failure of an indoor mercury service regulator that was not connected to a vent and thus allowed natural gas to build up in the basement of an apartment building.
That board noted that it was unable to determine an ignition source that started the explosion and fire that sent 65 residents and three firefighters to the hospital and leveled a 14-unit apartment building.
While Hucker's memory hasn't faded, his hopes for a speedy resolution for residents and action to make sure a similar explosion and fire doesn't happen again have dimmed.
"I'm frustrated by the speed of the progress," he noted. Thirteen years ago, Washington Gas established a plan to move all its mercury regulators to the outside of buildings. "They failed to stay on the schedule," Hucker said, adding some regulators still have not been moved from inside buildings.
While the county's housing code has been strengthened for tenants since the tragedy, more needs to be done, Hucker said. Still, he added, "Today is more of a day for the victims and how much our lives have changed."
On Aug. 31 and Sept. 1, the Maryland Public Service Commission is scheduled to hold an evidentiary hearing on the matter. However, prior to the hearing, it was ruled that the NTSB findings cannot be part of this hearing.
"I think that's the wrong decision. I think it's going to be harder to hold Washington Gas accountable," said Del. Lorig Charoudian (D-20). "I actually am very disappointed. Washington Gas continues to fight any responsibility in their role in this tragedy."
The explosion was "so preventable," she said.
4 yrs ago tonight I heard and ran to the gas explosion at the Flower Branch apts. It killed seven of our neighbors, including children & left dozens injured & displaced hundreds. Today reminds us of the importance of tenant protections and robust oversight of apartment complexes. pic.twitter.com/5dRXJLMi9b

— Tom Hucker (@tomhucker) August 10, 2020
Today we remember. 4 yrs ago in Long Branch #SilverSpring a horrible gas explosion took the lives of 7 people & shook families & neighbors to the core. The community responded immediately & generously. The pain & loss will be forever a defining, transformative moment for us. pic.twitter.com/3TDLy6ZGko

— reemberto (@reemberto) August 10, 2020