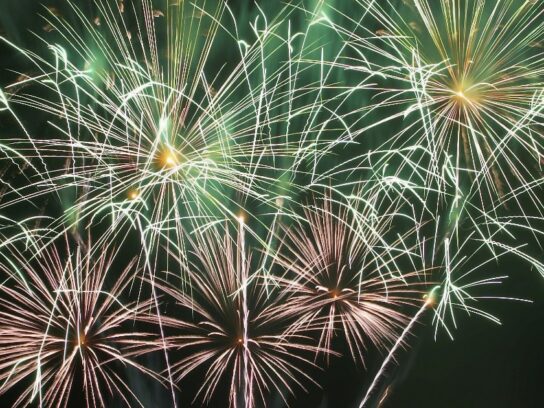 Montgomery County is returning to its pre-pandemic Fourth of July festivities with fireworks in Germantown, Kensington, Gaithersburg and Rockville.
"It's great to be able to gather again and enjoy the fireworks and celebrations," said County Executive Marc Elrich. "I know they have been missed by so many. These are the first in several years; we're thrilled to return and we have so appreciated everyone's cooperation and understanding of the need to protect public health."
On July 2, fireworks will blast off at Albert Einstein High School, 11135 Newport Road, Kensington. The event begins at 6 p.m. with a concert by Joe Falero Band. Quiet Fire takes the stage at 7:30 p.m. Fireworks are expected to begin at 9:15 p.m.
Parking is limited to individuals with disabilities. Spectators should take a free bus from the Westfield Wheaton Mall, 11160 Veirs Mill Road starting at 5:30 p.m.
Germantown Glory at South Germantown Recreational Park, 18041 Central Park Circle, will be held July 4th. The celebration begins at 7 p.m. with a concert by Quiet Fire. Fireworks will follow at about 9:15 p.m.
Spectators can bring low lawn chairs, blankets and coolers. There will be food vendors at both events. Alcoholic beverages and pets are not permitted. Sign language interpreter services and other services will be provided upon request with as much notice as possible, preferably at least three business days before the event. Contact a therapeutic recreation specialist at 240-777-6870 or email rec.inclusion@montgomerycountymd.gov.
The City of Rockville also is going all out for Independence Day with festivities at Mattie J.T. Stepanek Park, 1800 Piccard Drive, on July 4. Vertigo Red will perform at 7. At 8:45 p.m., the mayor and council will greet the crowd followed by the playing of the national anthem. Vertigo Red will perform again until the fireworks start at about 9:15 p.m.
There is free parking in lots along Shady Grove and Gaither Roads and Piccard Drive. No parking is available in King Farm.
Food and beverages will be available to purchase. Beach chairs and blankets are permitted only starting at 100 feet from the stage. Spectators can bring their own food.
Parts of Stepanek Park will have limited access prior to the event. The dog park will close July 1 at 7 a.m. until 11 a.m. July 5. Areas around the fireworks, including football fields, tennis courts, playgrounds and parking lots, will close at 7 a.m. July 3 until 11 a.m. July 5.
Gaithersburg is celebrating America's independence on July 2 with a SummerFest at Bohrer Park at Summit Hall Farm. The free event features music, food and activities followed by a fireworks display and SummerGlo after party. The event goes from 6 p.m. to 11:30 p.m.
Takoma Park will not host a fireworks display. However, A Party in the Streets of Takoma Park begins on July 4 at 7 p.m. at 7500 Maple Street.