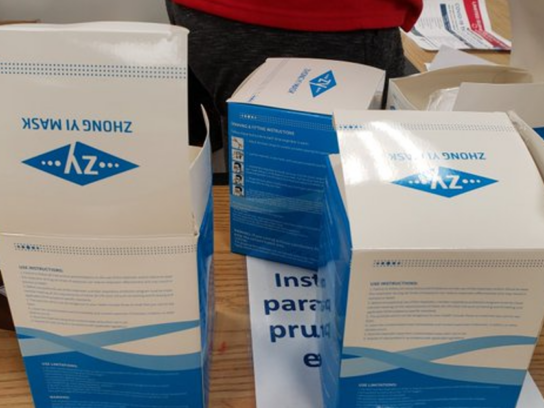 The first person in line at the White Oak Library Friday waited three hours in below freezing temperature to get her free COVID-19 test kits and N95 masks.
But once the doors opened at five minutes before noon, the people moved quickly through an organized system. They were handed two test kits, and the adults received four masks, and were back outside, all in a few minutes.
"I am so impressed with the smooth operation," said Julie Whitcomb of Silver Spring. "It is very, very impressive. Everybody is friendly."
The items were available at 19 county libraries.
The White Oak Library had supplies for 900 people to receive a total of 3,600 face masks on the first day of operation. They were distributed by library staff and members of the Maryland Medical Reserve Corps.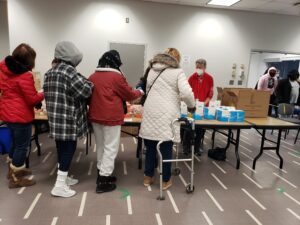 Head Librarian Kathie Meizner was proud that her library was able to help so many people. A library "touches everyone," she said.
Another plus, she said, was that there was an increase in requests for brand new library cards during the times the test kits were distributed as well as "a slight uptick in the number of people who are coming to visit us this part of the day."
The lines at Potomac Library also wrapped around the building's exterior, and one area resident waited about 30 minutes before picking up his masks and test kits at lunchtime.
County Executive Marc Elrich stopped by and handed out two test kits per person. He did not identify himself and later said he was surprised at how many people recognized him.
One woman in line said she needed the masks as she was going to San Francisco soon to meet her new grandchild. Martha Forston of Silver Spring said she has been using the same masks for awhile needed new ones but shied away from spending so much money on the ones she saw on line.
Here is what both those waiting in line and those handing out the items told MyMCM.
MCPL branches distributing masks from noon to 2 p.m., Monday through Saturday are Aspen Hill, Chevy Chase, Damascus, Davis, Gaithersburg, Little Falls, Potomac, Silver Spring and White Oak.
Libraries distributing the items from 5 p.m. to 7 p.m. Monday through Thursday and 3 p.m. to 5 p.m. Friday and Saturday are Connie Morella, Germantown, Kensington Park, Long Branch, Marilyn Praisner, Olney, Quince Orchard, Rockville, Twinbrook and Wheaton.