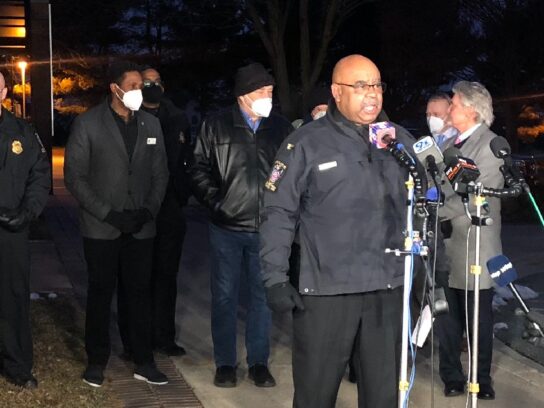 A 17-year-old Magruder High School student was arrested following a shooting Friday at the school, according to the Montgomery County Police Department (MCPD). 
Officials held a press conference outside Sequoyah Elementary School, just a few minutes away from the high school in Derwood. At about 12:53 p.m., school security became aware of a situation in a bathroom, Police Chief Marcus Jones said — a male student was shot. 911 was called and the school went under full lockdown at 1:05 p.m. MCPD and the Sheriff's Office secured the building.
Police searched the building and found a suspect. He was taken into custody shortly after 3 p.m., Jones said. A weapon was also found.
"A handgun was also located with the student suspect," Jones said. The student victim was taken to a hospital in serious condition and is in surgery as of Friday evening, according to a release from police. 
"We will have a crisis management team at Magruder over the weekend and into next week to work with those who need help," Montgomery County Public Schools (MCPS) Interim Superintendent Dr. Monifa McKnight said. She said MCPS will work with county partners to make sure services are available, and the employee assistance program will be available to staff.
Other officials attending the press conference were County Executive Marc Elrich, Councilmember Craig Rice, Assistant Chief Administrative Officer Dr. Earl Stoddard and State's Attorney John McCarthy.
In a community message, Magruder Principal Leroy Evans wrote, "Our thoughts are with the student, and we wish him a speedy recovery." He said dismissal would begin between 5-6 p.m.
Elrich issued a statement, and the county council did as well.
On Twitter, Stoddard thanked school health nurse Megan Wilson, "whose use of a Stop the Bleed kit may have been the difference today."