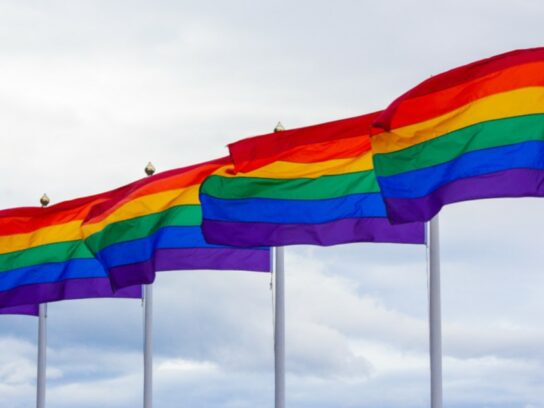 Pride Month commemorates the impact that lesbian, gay, bisexual and transgender individuals have had on history locally, nationally, and internationally. Here are some free events going on throughout the month to celebrate.
PRIDE ON THE PAGE Book Talk with Eric Nguyen
Join Loyalty Bookstores for a conversation with local author Eric Nguyen, discussing his debut novel, "Things We Lost to the Water," which was featured on Obama's Favorite Books of 2021. The event will take place Tuesday, June 21 at 7 p.m. at Montgomery College's Cafritz Foundation Arts Center. A door raffle will award some lucky attendees with a free copy of Nguyen's book.  Register hereor purchase a copy before the event.
PRIDE ON THE FIELD: AN LGBTQ+ FIELD DAY
Montgomery County Recreation Department and Unmatched Athlete will partner for a day of outdoor games and sports on Friday, June 24 at 12-4:30 p.m. at White Oak Recreation Center. No matter your athletic ability, there will be something fun for everybody! Following Pride on the Field, come hang out at White Oak Rec Center's new LGBTQ+ Safe Zone from 7-10 p.m. Register for Pride on the Field.
MOCO PRIDE YOUTH PICNIC
MoCo Pride Youth, MCPS's LGBTQ+ student advocacy group, has organized an afternoon of food and socializing for LGBTQ+ youth in downtown Silver Spring's Woodside Urban Park on Saturday, June 25 at 12-3 p.m. All LGBTQ+ teens are welcome to attend, regardless of whether they're MCPS students. Get free tickets.
MARYLAND TRANS RESILIENCE CONFERENCE
The second Maryland Trans Resilience Conference will bring together trans people from around Maryland for two days of community, workshops, HIV/STI testing, and more, all focused on building resilience. The conference runs from 10-4 p.m. on June 22 and 23, with a meetup from 5-7 p.m. on June 23, in Silver Spring, MD. More information.
PRIDE IN THE PARK: MOVIE NIGHT
Bring a blanket or lawn chair, a date or a friend, for a cozy outdoor screening of the film Saturday Church in Jesup Blair Park on Friday, June 24 at 7 p.m. Saturday Church takes the viewer through the story of young 14-year-old Ulysses, a boy who is struggling with his gender identity and faith. Ulysses uses music and fantasy to navigate his life in the inner city, meeting many new friends along the way that help him discover his freedom of expression and passions. No tickets are required for this event, brought to you by Montgomery Parks. More info here.
DRAG QUEEN STORY HOUR
Little ones of any age will enjoy the magic and creativity of story time led by storytellers in drag!  The Brigadier General Charles E. McGee Library will host three sessions of Drag Queen Story Hour: Tuesday, June 21 at 11 a.m. (register), a Spanish/English bilingual session on Saturday, June 25 at 11:00 a.m. (register) and a final session on Saturday, June 25 at 3 p.m. (register). Space is limited; children of all ages are welcome.
PRIDE IN THE PLAZA FESTIVAL
Come out and show your pride in Veterans Plaza on June 26, 12-8 p.m. for a fun, all-day festival celebrating LGBTQ+ community, health, well-being, and joy! Check out local LGBTQ+ artists, businesses, and supportive nonprofits, and get free HIV testing. Stay entertained all day with a Drag Queen Story Hour, the LGBTQIA Drag Duels Finale, and a Mini-Ball hosted by Capitol Ballroom Council. The festival is free for everyone. Get tickets.