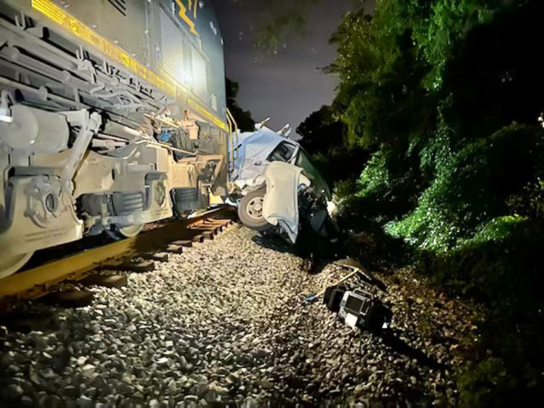 A CSX freight train struck a utility truck in Rockville Thursday evening, causing significant property damage and traffic delays. Authorities say no injuries were reported.
Just before 7:30 p.m., Montgomery County Fire & Rescue Service (MCFRS) responded to a report of a train crash involving a vehicle near the Randolph Road and Nebel Street railroad crossing.
The train traveling southbound pushed the vehicle down the tracks, which came to a stop between Randolph Road and Nicholson Lane, MCFRS Chief Spokesperson Pete Piringer said. The collision also knocked down electrical wires onto the tracks.
The driver of the vehicle left the scene before the arrival of MCFRS, according to Piringer.
Following the crash, CSX train traffic stopped in both directions in the area between Silver Spring and Gaithersburg. Randolph Road was also closed between Rockville Pike and Parklawn Drive.
CSX authorities and Montgomery County Police continue to investigate the collision.
ICYMI (~730p 9/29) Randolph Rd – RR Crossing, between Rockville Pike & Parklawn Drive, CSX Freight train & vehicle collided, no injuries, https://t.co/44u81vTYdN pic.twitter.com/UwO0T7aegG

— Pete Piringer (@mcfrsPIO) September 30, 2022