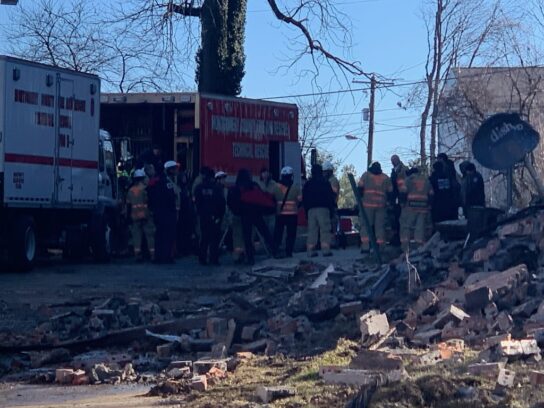 The flash fire and subsequent explosion at Friendly Garden Apartments on Laytonsville Road in Silver Spring on March 3 has been ruled accidental and was caused by an apartment maintenance worker cutting a gas pipe that he thought was a plumbing drainage pipe, according to Montgomery County Fire Chief Scott Goldstein.
Also, Goldstein said, of the 14 people taken to the hospital, all but two have been discharged. One of those still in the hospital is in critical condition. The other is being treated for a medical issue unrelated to the explosion that caused 41 families with a total of 124 adults and 36 children to be displaced.
Since Thursday, power has been restored to three buildings and residents have returned. At two other buildings, 2411 and 2401, residents were able to return to collect important personal belongs. Residents from building 2405, where the explosion and fire occurred, will be escorted through their apartments Tuesday.
Those buildings will not be habitable "for weeks to come," Goldstein said.
According to Goldstein, a maintenance worker went to apartment 101 to fix a clogged drain. The maintenance worker then went to the basement, directly below that apartment, and cut a one-and-a-half inch diameter gas pipe. The maintenance worker used a snake to clear the debris and then capped the pipe, not knowing it was a gas pipe, Goldstein said.
Here is the county's press briefing from Monday afternoon.
The worker then went back to apartment 101 when the flash fire occurred. The resident and the maintenance worker fled the unit and were climbing down a back stairwell when "a significant explosion occurred," Goldstein said.
In order for the fire and explosion to take place, a spark had to be ignited. A pilot light, an electric tool, a cigarette or many other things could have been the spark that set the place ablaze. There are many options, and Goldstein said he doubted the cause of the spark will ever be known.
Executive Marc Elrich said the county will be researching two areas. First, it will determine if the pipes in that building, which was erected in 1971, were labeled, and if not, should they have been. Second, county officials want to know how maintenance workers are hired at Friendly Garden Apartments and whether they are trained properly.
Elrich said the county was checking to see if the maintenance worker was a licensed plumber.
While the investigative work was being conducted, another set of county employees and nonprofit workers were helping the victims obtain housing, fill out necessary forms, get money for food and other necessities and recover their vital records.
County residents have contributed $462,000 as of Monday afternoon to support the displaced residents.
A few residents are staying at White Oak Recreation Center but most are temporarily with family or friends. Tuesday between 3 p.m. and 7 p.m. and again on Wednesday between 4 p.m. and 7 p.m., county workers will be at the Gwendolyn Coffield Community Center assisting residents.
According to Council President Gabe Albornoz, about 150 firefighters and EMTs from both Montgomery County and neighboring jurisdictions have been on site helping out.
"I saw with my own two eyes the devastation, which is hard to put into words," Albornoz said. He spoke with two women who were worried how they would explain what happened to their children, and Albornoz said they were connected with social workers.
U.S. Congressman Jamie Raskin told MyMCM he was pleased that so many county residents have come together to help in this tragedy. He particularly noted that several Hispanic nonprofit workers are assisting displaced residents although many residents were from Ethiopia and other parts of Africa.
Goldstein said if anybody smells gas, they need to quickly get out of the building. Once outside, call 9-1-1, and then stay out.