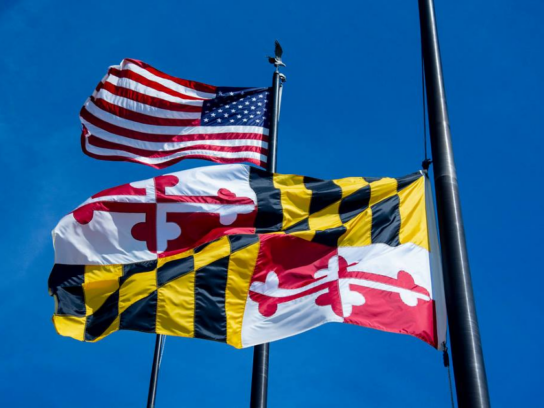 A new redistricting map drawn up by the Maryland Senate earlier this week is being reviewed by Gov. Larry Hogan. Meanwhile, Maryland Attorney General Brian Frosh announced he will appeal Anne Arundel County Senior Judge Lynne A. Battaglia's ruling that the earlier map was "an extreme partisan gerrymander.
Hogan has six days, not including Sunday, to consider the bill, according to his spokesperson Mike Ricci.
If the new map is approved, Rep. David Trone's district would change. In a news release, he expressed his support for a national solution to end partisan gerrymandering and still considers his 6th District seat winnable.
"Some have said that the new design of the Sixth District endangers my chance of being re-elected and makes this a swing district. I don't disagree. But my concern with the new district map has nothing to do with how it affects me but rather how it affects one particular group of voters."
Trone wished the proposed map "kept the residents of the incorporated and unincorporated areas of Montgomery County that border [sic] the Potomac River together with similar communities in the rest of the Sixth District. These areas have constituted a community of interest since the earliest days of Maryland, an association that only increased when the C & O Canal was built beside the Potomac in the early 19th century and, later, by the original path of the B&O Railroad," he stated in the news release.
The river-canal areas are "politically, economically, and culturally connected," Trone said.
My MCM's 21 This Week will feature an in-depth discussion on redistricting. Check it out Sunday, April 3 at 11 a.m.
Here is how Maryland Democrats subtlety gerrymandered the new Congressional maps. They split Baltimore (pop 585,708) putting the 80% Biden areas in Northern Baltimore in #MD02 turning it into an uncompetitive Biden +20 while sinking GOP areas around Dundalk into Biden+63 #MD07 👇 pic.twitter.com/PvjablWPmc

— RRH Elections (@RRHElections) March 31, 2022
Related Post