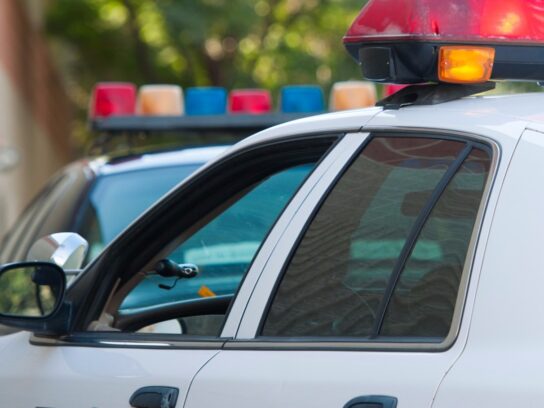 A Gaithersburg man has been charged with stealing a car after an off-duty Montgomery County police officer saw a collision between two automobiles, a police statement said.
The off-duty officer witnessed, in a marked police car, a northbound Lincoln Continental make a sudden lane change and hit another vehicle, a collision that took place on Ridge Road (Md. 27) near Snowden Farm Parkway in Clarksburg, police said.
The officer activated his emergency lights and siren to maneuver through traffic to assist with the collision, police said. The Lincoln, however, continued north on Ridge Road and turned on Apple Orchard Way, stopping at the intersection of Muscadine Drive, police said.
The driver was identified as Anthony Leonard Jr., 20, of Centerway Road in Gaithersburg, with vehicle theft. The Lincoln also had four passengers, two adult males and two female juveniles. They all fled from the vehicle but were apprehended in the area, police said.
Police learned the vehicle was stolen from a home in Potomac during the overnight hours of Sept. 27 to Sept. 28. The vehicle had been parked unlocked with the keys left in the vehicle.
Centralized Auto Theft Section (CATS) detectives interviewed all of the suspects. The passengers said they did not know that the car was stolen and asked Leonard to stop the car as he fled from the collision scene. Leonard stated that he told the four passengers to get out of the vehicle when he stopped it on Apple Orchard Way because the car was stolen.
Leonard faces four charges: unlawful taking of a motor vehicle, a felony the carries a maximum penalty of five years in prison; unlawful removal of a motor vehicle, a misdemeanor that carries a minimum penalty of six months and a maximum penalty of four years; theft of $1,500 to under $25,000, a felony that carries a maximum penalty of five years; and being a rogue and a vagabond, a misdemeanor that carries a maximum penalty of three years.
Bail was set at $5,000 and he posted bond on Wednesday, according to online court records. Based on the investigation and interviews, the four passengers were released without charges, police said.