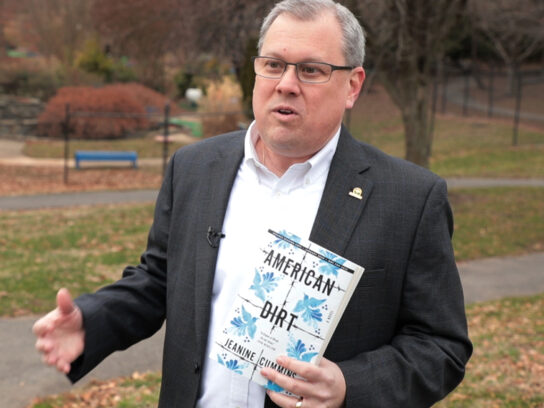 City of Gaithersburg Mayor Jud Ashman has announced that "American Dirt" by Jeanine Cummins is the first selection for "Gaithersburg Reads," a new city-wide book club that leads to a large community discussion with the author.
Cummins, a graduate of Gaithersburg High School and a former guest at the Gaithersburg Book Festival, is the author of one of the most anticipated books of 2020. "American Dirt" comes out Jan. 21 and has already received high praise.
Goodreads says some are already hailing "American Dirt" as "a Grapes of Wrath for our times." Stephen King has reviewed the book, calling it "extraordinary."
"I defy anyone to read the first seven pages of this book and not finish it," said King.
Ashman received an advanced copy  of "American Dirt" at last year's BookExpo America—the largest trade show for the publishing industry—and said it was the "belle of the ball."
"American Dirt " is a story about a Mexican immigrant who flees her home after a mass murder. Ashman told MyMCMedia that the book is a page-turner and he predicts Cummins will become a world-famous author as soon as the book is released.
https://www.instagram.com/p/B7RjSX4BDpr/
The city-wide book club is invited to discuss "American Dirt" with Cummins at the Gaithersburg Reads event on March 31 at 7 p.m. at Gaithersburg High School Performing Arts Center. Ashman said Cummins will talk about the plot (including the spoilers), answer audience questions, and sign copies of "American Dirt."
In December, Cummins tweeted her excitement about the Gaithersburg Reads discussion:
PLEASE COME LET'S MAKE THIS A PARTY MY MOM'S BOOK CLUB IS GOING TO BE SO EXCITED TO MEET THE MAYOR @judashman OMG YES.

— Jeanine Cummins (@jeaninecummins) December 12, 2019
Ashman urges everyone to buy the book and start reading in time for the Gaithersburg Reads discussion. While it's fun knowing that Cummins grew up in Gaithersburg, Ashman said there are other aspects of American dirt he feel will connect with Gaithersburg residents.
"In the city where roughly [one-third] of our residents were born in a country other than the United States, have their own immigrant stories, we felt that this was going to be even more relevant," Ashman said.