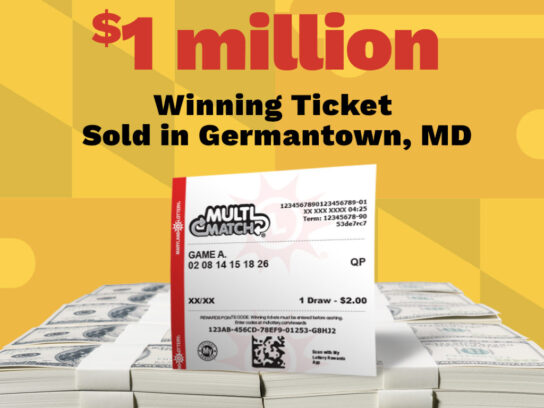 Una tienda de cerveza y vino en Germantown vendió un boleto de lotería con un premio de $ 1 millón el 5 de julio, según un comunicado de prensa de la Lotería de Maryland.
Los números ganadores aparecieron en el sorteo del 5 de julio, pero a partir del 13 de julio, el premio permanece sin reclamar. El ganador es el cuarto jugador en ganar un premio mayor de partidas múltiples en 2021.
¿Y los números ganadores? Son 5, 6, 31, 34, 35 y 39.
El boleto Multi-Match se compró en Germantown Beer & Wine ubicado en 13046 Middlebrook Road. Por vender el boleto ganador, el minorista del condado de Montgomery gana un bono de $ 1,000 de la Lotería.
Congratulations to the newest Maryland millionaire! The jackpot-winning Multi-Match ticket was sold at Germantown Beer & Wine in Germantown. https://t.co/zpmvFJXUbu pic.twitter.com/7TRt8QvQru

— Maryland Lottery (@MDLottery) July 6, 2021
Los ganadores tienen 182 días después de un sorteo para reclamar su premio. Los jugadores pueden escanear sus boletos en cualquier tienda de lotería o con la aplicación móvil de la lotería para determinar si tienen un boleto ganador. Los funcionarios de la lotería alientan al ganador a que firme el reverso del billete y lo guarde en un lugar seguro.
El ganador puede reclamar el premio por correo, en persona con cita previa o entregando el formulario de reclamo completo y el boleto ganador en la sede de la Lotería de Maryland en Baltimore. Más información sobre cómo reclamar premios está disponible en el sitio web de la Lotería de Maryland.