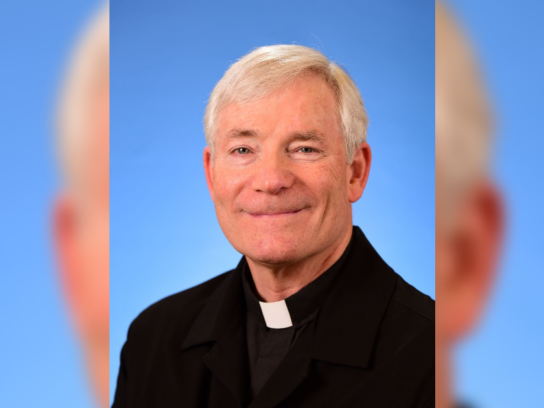 A priest at Holy Cross Catholic Church in Garrett Park has been placed on administrative leave following allegations of sexually abusing minors in another diocese decades ago. The Roman Catholic Archdiocese of Washington notified parishioners last Friday.

According to church officials, the sexual abuse allegations against Reverend Robert Buchmeier were first reported to the Catholic Diocese of Arlington on Sept. 30. After reviewing the preliminary information, the Diocese of Arlington notified Alexandria City Police and the Archdiocese of Washington — where Buchmeier is incardinated. 
"Upon receiving this allegation, I, as Episcopal Vicar for Clergy and Secretary for Ministerial Leadership, immediately placed Father Buchmeier on administrative leave in compliance with our Child Protection and Safe Environment Policy," Reverend Anthony Lickteig said in the letter. 
Pending a review of the allegations, Buchmeier's priestly faculties have been suspended and he is no longer at the rectory. 
"Holy Cross Church and The Roman Catholic Archdiocese of Washington take seriously our responsibility to protect children entrusted to our care. It is important that you be informed of the facts given the gravity of this matter and our deep commitment to the safety of our youth and the healing of those who have been harmed by abuse," Lickteig said. "Please be assured that we will fully cooperate with the investigation by the civil authorities and comply with the Child Protection and Safe Environment Policy of The Roman Catholic Archdiocese of Washington."
Church officials encourage anyone with information regarding this investigation to contact the Alexandria Police Department at 703-746-4444. Additionally, improper conduct by anyone in the archdiocesan ministry can be reported to Courtney Chase, Executive Director of the Archdiocese's Office of Child Protection & Safe Environment, at 301-853-5302.
Cardinal Wilton Gregory also invites the church and school community to an open dialogue session at Holy Cross Church on Wednesday at 6 p.m. Due to the sensitive nature of the conversation, Gregory says children should not attend. The listening session will conclude with Mass. 
Holy Cross Church is located at 4900 Strathmore Road in Garrett Park.