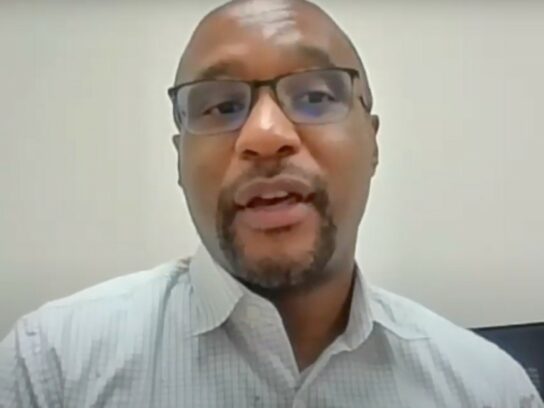 If Montgomery County continues to receive only 5,500 doses of the COVID-19 vaccination weekly, it could take years for all residents to receive the shot, County Health Officer Dr. Travis Gayles predicted during his appearance on WAMU's Kojo Nnamdi radio show Feb. 1.
The state also allocates doses for county residents at several area hospitals, Giant and Safeway supermarkets and Rite Aid. Gayles said he hopes to create more partnerships so that as many people as possible can get the injection as soon as possible.
As of Feb. 1, the county has received enough dosage for 32,000 vaccines and has used "roughly 29,500," he said. While the county health department has utilized 90% of its allocation, it is far from enough to cover the 1.1 million residents and the front line health care workers and teachers who work in the county but do not live there.
It will take "a significant amount of time" before the general public will receive the first vaccine, Gayles said. "This gets back to a supply issue."
According to Gayles, there are between 60,000 and 70,000 health care workers eligible to receive the vaccine. About 72,000 county residents are at least 75 years old and another 76,000 are at least 65 years.
The county is prioritizing residents who are 75 years and older while making sure that is done on an equity basis.
A caller into the radio show asked why a clinic wasn't being set up at Leisure World in Silver Spring, a community for people 55 years and older, noting that some residents were driving up to Baltimore to receive their vaccine.
"There are discussions on how to serve them the best way," Gayles replies. Seniors live throughout the county, and "we want to make sure it is equitable." Areas that have the most COVID-19 cases need to be prioritized, he said.
The county is asking leaders in the community to get the word out that getting the vaccine is the right thing to do, Gayles said, adding he believes that will help in the drive for equity.
When asked why nonresidents are receiving the vaccine in Montgomery County, Gayles explained that essential workers and teachers who work in the county, no matter where they live, contribute to the economy as well as efforts to open up businesses and schools and need to be included.
In America, "50 different states are doing 50 different things," and so are smaller regions within the states, creating confusion, Gayles said.
Currently, nearly 9% of D.C. residents, 8% of Virginia residents and just over 7% of Maryland residents have received the vaccine.
"It would be more beneficial to have a more standardized approach," he said on the show, which was titled, An Update On Vaccine Distribution In The DMV. What's working with the vaccine rollout in our area and what needs to be improved? Also appearing on the 24-minute episode was Washington Post reporter Julie Zauzmer.
Listen to the full interview below.