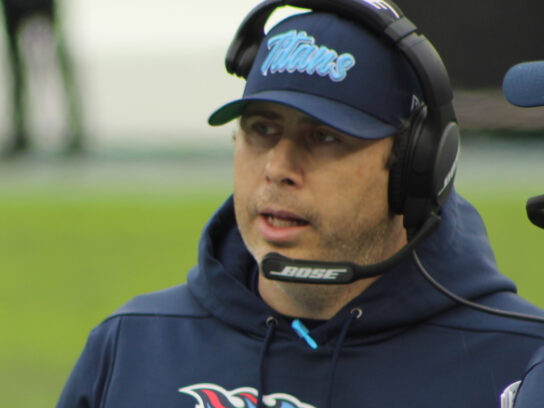 Until a few weeks ago, Arthur Smith was a respected but relatively anonymous assistant coach with the Tennessee Titans, a middle of the road NFL team.
Then the Titans eked their way into the NFL playoffs with a back-up journeyman quarterback named Ryan Tannehill, a dominant running back in Derrick Henry and an uninspiring 9-7 record. Then they beat the New England Patriots, the defending Super Bowl champs, on the road in the AFC Wild Card game. People started to take notice. Then the following week, the Titans pulled off another stunner, crushing the best team in football, the Baltimore Ravens, with the best player in the league, quarterback Lamar Jackson.
This was no fluke. People had no choice but to take the Titans, their head coach Mike Vrabel and that offensive coordinator – what's his name again? Smith. Yeah that guy – seriously.
Smith's overnight stardom is 20 years in the making. The son of Fred Smith, founder of FedEx and part of the Redskins' ownership group, was a boarder student from Nashville at Georgetown Prep 20 years ago. He became one of the most dominant offensive linemen in school history. In addition to starting at offensive tackle, he started at defensive tackle his junior year. As a senior, Smith co-captained the Hoyas to a perfect 10-0 record and an IAC championship. He earned first-team All-Met honors from The Washington Post. In addition, he was named first-team All-State, first-team All I.A.C., and first-team All-County. Smith was inducted into the Georgetown Prep Athletic Hall of Fame in 2017.
Dan Paro, Smith's head coach all three years on varsity and now the school's Athletic Director said at the time, "don't be surprised if he ends up in the NFL."
Paro is not surprised by his former player's success, "The guy was born to be involved in football. It's his passion. It's been in his blood from the get go." Asked what aspect separates Smith from others, Paro said, "Players like him and respect him. His greatest trait is he listens. His greatest strength is how he treats people."
Smith played four years at North Carolina then served as a graduate assistant coach at UNC working with the offensive line. In 2007 he got his start in the NFL as a quality control coach with the Redskins. In 2010, he coached at Ole Miss then got hired by the Titans in 2011 and has worked his way up the ladder. Last January, he was promoted from tight ends coach to offensive coordinator. Now Smith finds himself one game away from coaching in the Super Bowl.
Paro said Smith "makes all of us at Prep very proud. He's carrying on our mission," adding "He's living his dream. That's amazing."