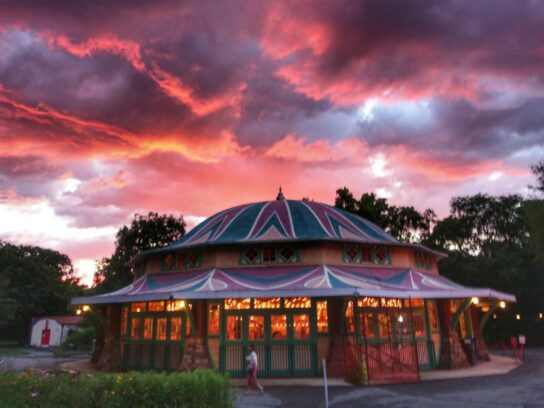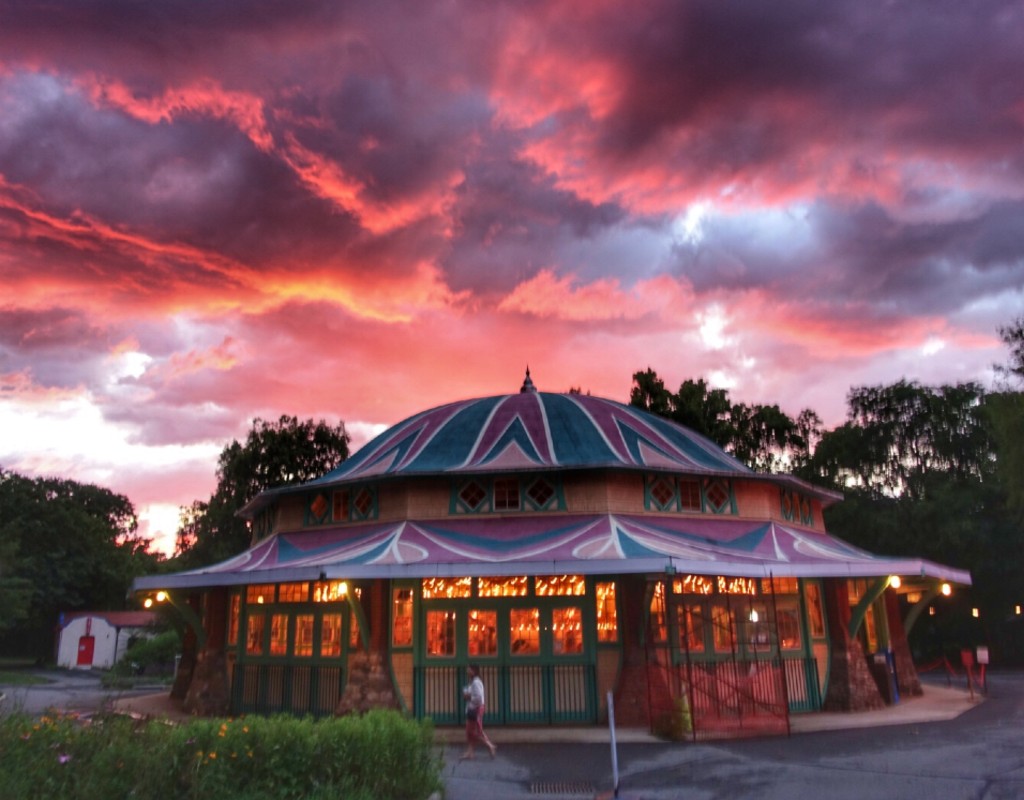 Glen Echo Park's iconic Dentzel Carousel has reached centenarian status.
Many Montgomery County residents have celebrated their own birthdays at the famous carousel and now, residents can celebrate the historic carousel's 100th anniversary.
Over the next several months, Glen Echo Park Partnership for Arts and Culture is teaming up with Montgomery County government and the National Park Service to offer "virtual lectures on the history and restoration of the carousel, summer family weekend activities, social media contests, carousel anniversary merchandise, a fundraising campaign, and the premieres of three short videos that will feature personal stories reflecting the unique and enduring role the carousel has played in the community for a century."
https://www.instagram.com/p/CLHf3RPhr3l/
Upcoming Glen Echo Carousel Celebrations in February
Feb. 18 at 12:30 p.m. — Introduction of Festivities: Liz Dapo, the artistic director of the the Puppet Co. Playhouse, will go live Glen Echo's website, YouTube channel, and Facebook page to announce the carousel's 100th anniversary festivities. Dapo will be joined by a surprise guest, as well as Glen Echo Park Partnership Executive Director Katey Boerner and Partnership Board President Bonnie Casper. The virtual event will feature messages from the National Park Service, U.S. Sen. Chris Van Hollen (D-Md.), U.S. Rep. Jamie Raskin (D-Md. 8), State Del. Marc Korman (D-16), Montgomery County Councilmember Andrew Friedson, and others. Register here.
Feb. 19 at 12:30 p.m. — Carousel Virtual Tour with NPS Ranger: Glen Echo Park will premiere a video on its YouTube channel, which will feature NPS Ranger Kevin Patti reviewing the history of the Dentzel Carousel along with the Wurlitzer band organ.
Sharing Your Stories: Glen Echo is also teaming up with the nonprofit Story Tapestries to help the community stories share their own stories about the Dentzel Carousel. Throughout the month of February, community members are invited to share their favorite memory of the carousel using this online form.
All of the carousel's 100th Anniversary Celebration activities "are paid for with funds provided by the state of Maryland through the Maryland Heritage Areas Authority, as well as Heritage Montgomery and funds from private donors. Additionally, the Dentzel Carousel at Glen Echo Park has been awarded the 2021 Heritage Award in the 'Place' category from the State of Maryland through the Maryland State Arts Council, which comes with $5,000 in funding for the celebratory events."
Upcoming 100th Anniversary Lectures About Dentzel Carousel
Montgomery History has helped produce 30-40 minute long lectures about the history of the Dentzel Carousel. Those who want to attend the lectures can register online, but Glen Echo will post recordings of the lectures on YouTube.
Feb. 24 at 7:30 p.m. — Lecture #1: Carousel Civil Rights Story by Ilana Trachtman: Trachtman—Emmy award winning producer of the upcoming documentary "Ain't No Back to a Merry-Go-Round"—discusses the civil rights history of the carousel. Her documentary " tells the important story of the 1960 protests that resulted in the integration of the privately-owned Glen Echo Amusement Park in 1961."
April 21 at 7:30 p.m. —The History of Carousels by Barbara Fahs Charles: Charles works for the National Carousel Association. She discusses the history of carousels throughout the country and the world.
July 14 at 7:30 p.m. — Glen Echo's Wurlitzer Band Organ – A 50-Year Perspective by Durward Center: Center has saved as "restorer and caretaker" of the Wurlitzer Band Organ for more than 50 years. Center discusses "modifications, restoration and maintenance.  A rear view of the organ's mechanism will be described and shown in operation."
Aug. 11 at 7:30 p.m. — Painting Style of the Dentzel Carousel Company and Restoration Techniques by Rosa Patton: Patton, whose career of restoring carousel has spanned 43 years, discusses the "20-year restoration of Glen Echo's carousel" — which she was involved in. In Patton's lecture, "She will discuss the painting style differences between carousel manufacturers, the types of paints used, and the tools and brushes used for achieving the signature look of each company. She will also give a painting technique demonstration to show how the company's artists worked and how these techniques were used during the carousel's restoration."