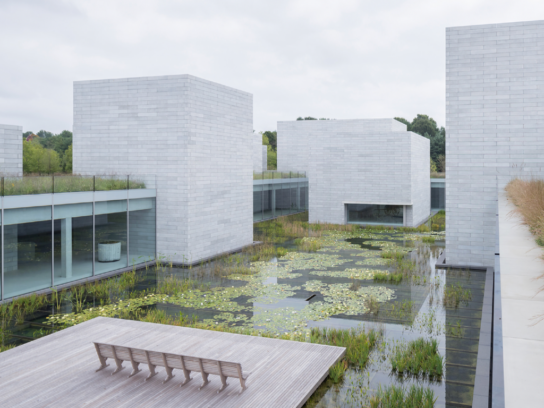 The Glenstone Museum in Potomac plans to design a new building on their Woodland Trail that will feature a large sculpture by Richard Serra.
Architect Thomas Phifer will design the 4,000-square-foot building in partnership with Serra to feature one of his recent large-scale sculptures according to a press release. The building will be on the eastern side of the museum's grounds and over the bridge above the Greenbriar Stream. The project is expected to be completed by the spring or summer of 2022. 
"Creating another building for Glenstone's extraordinary landscape while working with Richard Serra, without question one of the greatest artists of our time, is the honor of a lifetime," Thomas Phifer said. "I hope when people come upon this experience they will find it surprising, powerful, and deeply moving."
The museum's goal for this expansion is to allow interaction between its visitors and the art, architecture and landscape on their property. Its landscape is designed by PWP Landscape Architecture Design Partner Adam Greenspan. 
Two pieces of Serra's signature weatherproof steel sculptures are already featured in the museum: Sylvester, 2001 and Contour 290, 2004. Serra has also nationally and internationally designed more than 100 permanent outdoor art pieces. Director and Cofounder of the Glenstone Museum Emily Wei Rales called Serra's works "anchors in the collection."
"It's deeply gratifying to work with Richard and Tom again, this time as collaborators, alongside our long-time landscape architect Adam Greenspan. We can't wait to share this new building and installation with our visitors next year," Rales said.
Visits to the Glenstone Museum can be scheduled on their website and masks are currently required unless visitors are outdoors and more than six feet apart from other households.
We are thrilled to share that we are installing a new, large-scale work by Richard Serra!🎉 pic.twitter.com/puWUJUpYpm

— Glenstone Museum (@GlenstoneMuseum) July 12, 2021