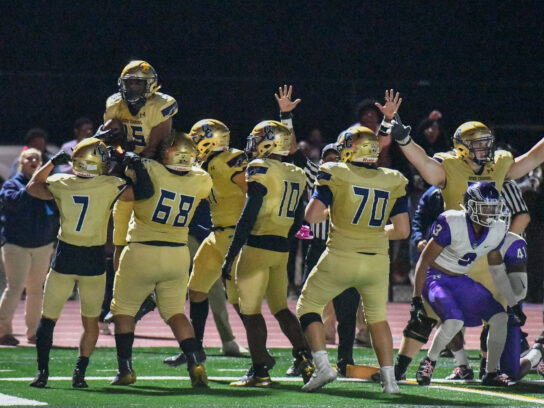 Four quarters pass and I am still waiting for the dessert course.  Gonzaga ranked #1 in the DMV and Good Counsel is #5 and neither looked topped ranked. At the end of regulation, it's tied 7-7.  Gonzaga only a few minutes prior to the end missed on a game winning 20-yard field goal.  At this point it's not a good look for these two Washington Catholic Athletic Conference (WCAC) stalwarts.
The game up to overtime is dominated by the bigs on the field, the offensive and defensive linemen.  The beef.  The only way to get more beef on Dancel Field is to park a 45 foot "reefer" van from a Chicagoland meatpacking house on the 50-yard line.  Where is the dessert?
Overtime begins as each team takes a turn to score from the 25-yard line (red zone).  Score and you live to play into the next OT period.  Stop the opponent from making a first down or scoring and you and your fans go home a winner.
Sometimes the offensive (OC) and defensive coordinators (DC) provide too much control over the game stuffing the talent in hopes that their lineman "bigs" make the difference.
Flip a switch – it's over time.
Faced with this do or die situation it appeared as if both teams OC's threw out their play books and began to create.  They let the talent play – and play they did – for five, read that as 5, overtime periods.
Good Counsel in the end holds Gonzaga to a 4th down and 12-yard desperation pass that fluttered to the ground and ended this classic WCAC matchup.  Good Counsel wins, 42-35 and their fans go home happy.
The bigs, for both sides, after going 45 additional minutes were tired.  The fleet footed running backs took too much easy advantage of them.  The average scoring drives occurred within 3 offensive plays, twice occurring on the first play from scrimmage.
Gonzaga's Junior quarterback Caleb Williams scored four times in OT.  This cagey fleet footed QB found cover behind his lineman to scamper untouched for two of his four OT touchdowns.
Good Counsel meanwhile was serving dessert as they scored 5 times in OT by five different offensive players, run, pass, kick – all this offensive magic worked for Coach Andy Stefanelli's team.
Good Counsel's defense finally in the 5th OT period did something that they did not do in the prior 90 minutes.   They place Coach Randy Travers team into two must make passing situations for a first down.  A 3rd and long, then a 4th and 12 situation that went incomplete.
Gonzaga's passing game this year may be it's Achilles heel.  Only time and experience will tell as they face upcoming WCAC opponents DeMatha and St. John's in the coming weeks.
But I am betting the next time the Falcons and the Eagles meet (playoffs) both game plans will look a lot different, and a bit more delicious.  These are the lessons learned from a night of too much beef and a late abundant serving of dessert.
Photos to follow. Olney, MD: Friday, October 11, 2019
Copyright ©2019 Phil Fabrizio | PhotoLoaf®  for MCM