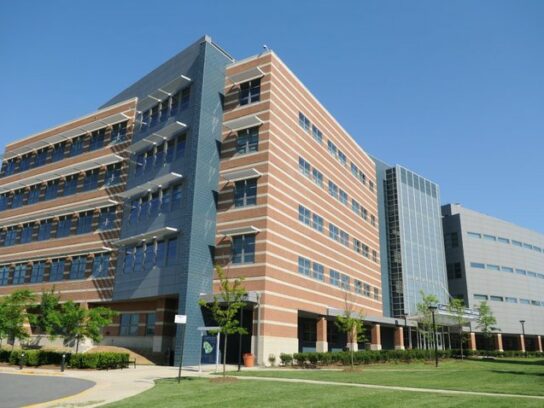 Google awarded $500,000 to the Universities at Shady Grove to develop educational pathway analytics to create new pathways leading to college degree completion and career success.
The goal is to "best ensure the success of a rapidly changing and increasing less traditional student population by building targeted pathways to degree completion and strong career opportunities," according to a news release from the education center of the University System of Maryland in Rockville.
USG is researching how long-range, systematic change in the way higher education can serve all learners.
The award is from the Grow with Google initiative that helps create new career opportunities through skill development and new pathways to the workforce.
"It's anachronistic to call USG's students 'nontraditional.' They're our students, plain and simple. And I'm thrilled that USG and Google will bring their collective strengths to showing us — and the nation — how we can best serve them," explained USM Chancellor Jay A. Perman.
"We are so grateful to the visionary team at Google for having the vision to invest in the important work we are doing at USG, together with our university partners," said Dr. Anne Khademian, executive director of USG and associate vice chancellor for academic affairs for USM.
"We are especially focused on embracing the opportunity to serve what I often refer to as 'fluid' students – those who are often described as non-traditional, but are now the largest and fastest growing segment of the college-going audience. Our goal is to build successful pathway programs and initiatives that lead students to where they want to go – to earning their degrees and achieving their career goals."
According to Shanika Hope, director of Google's Education for Social Impact team, "Building a diverse, highly skilled talent pool is vital to ensuring continued economic growth and the success of any industry."
Gov. Wes Moore praised the partnership, citing it as "just another example of how we are creating a more economically competitive and equitable state for everyone."
He noted in the news release, "Maryland is fortunate to have not only world-class public universities, but also a full-service regional higher education center such as USG, which makes it possible for so many students to have access to our universities and assure their career success."
Exciting news! @Google Provides USG with $500K Gift to Build Framework for Assessing Pathway Initiatives. Read more on our website: https://t.co/NaZMw9W1Oi @Anne_Khademian @Univ_System_MD @JayPerman @iamwesmoore pic.twitter.com/kGGzQUsPpU

— USG (@UatShadyGrove) February 17, 2023