Gov. Larry Hogan announced Thursday that Maryland would purchase 250,000 rapid coronavirus tests to be used in nursing homes, assisted-living facilities, correctional and juvenile detention centers across the state.
Hogan announced last month that the state had joined with five other states and the Rockefeller Foundation to form the interstate testing compact to expand the use of rapid point-of-care tests.
Today I announced that Maryland is acquiring 250,000 rapid point-of-care antigen tests from @BDandCo, becoming the first state in our bipartisan interstate testing compact to move forward with an acquisition.

Details: https://t.co/T6LPK80Zaq pic.twitter.com/SKJLZHfDDw

— Governor Larry Hogan (@GovLarryHogan) September 10, 2020
The governor made the announcement Thursday during a visit to Becton, Dickinson and Company (BD), located in Baltimore County. Hogan was joined by Dr. Rajiv Shah, president of the Rockefeller Foundation, and Dave Hickey, Worldwide President of Integrated Diagnostic Solutions at BD. Maryland is purchasing the rapid antigen tests, known as the BD Veritor System, from Becton Dickinson.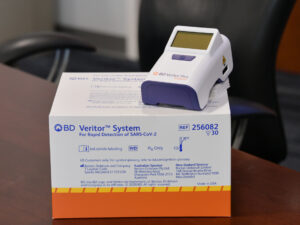 Rapid point-of-care antigen tests deliver results in just 15-20 minutes. The BD Veritor System includes the tests and the machine to read the tests. Maryland plans to deploy rapid tests to nursing homes and assisted living facilities, in order to test all residents and staff, and to state correctional and juvenile detention centers. In addition, the state is currently in discussions to send rapid tests to college and university dormitories and campuses.
In his remarks, the governor noted that rapid tests do not take the place of the state's PCR diagnostic tests, which continue to be the backbone of Maryland's long-term testing strategy.
The press conference was streamed live on YouTube:
The states included in the compact are Maryland, Arkansas, Louisiana, Massachusetts, Michigan, North Carolina, Rhode Island, Ohio, Utah and Virginia.
Montgomery County Health Officer Dr. Travis Gayles said Thursday that the County has no plans as of yet to use rapid testing.