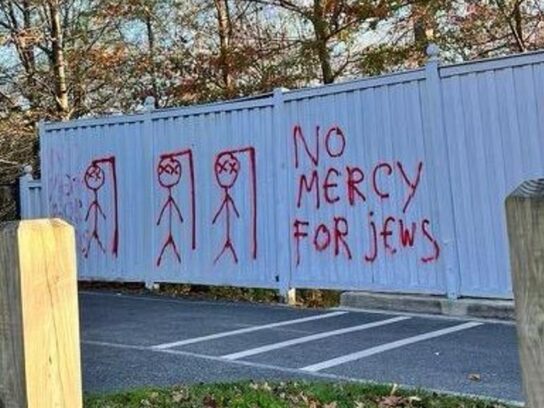 For the second time in about three months, antisemitic graffiti was posted along the Bethesda Trolley Trail, in the Wildwood neighborhood area.
In red paint, vandals drew three people hanging from a noose with the words, "No Mercy for Jews."
Also, antisemitic graffiti was found at Old Georgetown Road and Tuckerman Lane. The message there consisted of a swastika, and symbols for White Power.
County Executive Marc Elrich called for "these hateful images" to be removed as quickly as possible. "To see this happen again just a few months later is truly upsetting," Elrich said. An earlier incident occurred in August.
"Antisemitism, hate, and attempts at intimidation in any form should not exist nor be tolerated anywhere, especially in a community like Montgomery County. I have had to personally deal with antisemitism throughout my entire life, and I have always hoped that there would be a day in my lifetime when it would no longer be a part of our society," Elrich wrote in a statement.
"Sadly, from pop culture icons to right wing hate groups, we are witnessing a rise in antisemitism throughout this nation. I never imagined we would be at this place in the 21st century," he noted.
Elrich called on anyone with information to contact the Montgomery County Police Department. "We must combat these tragic and despicable incidents through unity in every neighborhood and community throughout the County. We are one of the most diverse jurisdictions anywhere in the world and now is a time when we need to use it to make us stronger. We must support and uplift our Jewish community during this time and we must continue to not tolerate hate in any form in Montgomery County, the state of Maryland and in this nation."
Alan Ronkin, director of the American Jewish Committee office in Washington, called the antisemitic graffiti "a sickening reminder of the rise in antisemitism in our country."
In a statement, Ronkin wrote, "Not two weeks after the Montgomery County Council unanimously condemned hatred of Jews, antisemites are standing up loud and proud. The Jewish community will not be intimidated by these vicious messages. We stand together with our friends and allies as a proud and strong community. We thank local law enforcement for their attention to this incident and to local officials who facilitated having the graffiti removed."
We are sickened by the antisemitic graffiti found in Bethesda today.

The Jewish community will not be intimidated by these despicable messages of hate.

Our Washington, DC office is in touch with local officials and tracking the situation. pic.twitter.com/hQ6f1lzFbZ

— American Jewish Committee (@AJCGlobal) November 14, 2022
I am deeply disturbed by several horrific antisemitic graffiti which occurred overnight in our community near the Trolley Trail in Bethesda (pictured) and along Tuckerman Lane with swastika and neo-Nazi symbolism as well as "White Power" and "Defend Bethesda." 1/ pic.twitter.com/1NuCwfATgV

— Andrew Friedson (@amfriedson) November 14, 2022
Here is my statement on the discovery of antisemitic graffiti in Wildwood Manor this morning. We will work to stop those responsible and hold them accountable for spreading such vile and offensive messages in our community.https://t.co/RSb5hbIvVi pic.twitter.com/f7XbA9lRIL

— County Exec Marc Elrich (@MontCoExec) November 14, 2022
---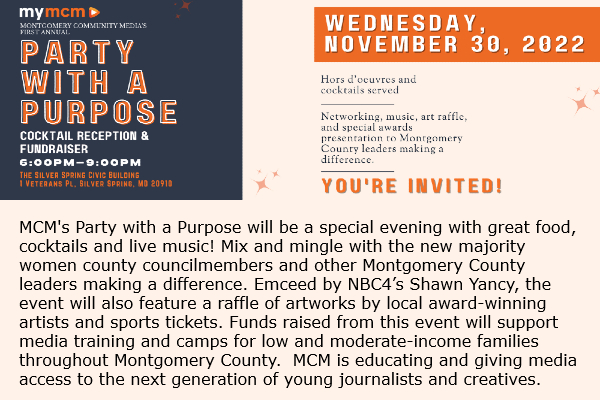 ---