MCM Party With A Purpose: November 30, 2022


MCM's Party with a Purpose will be a special evening with great food, cocktails and live music! Mix and mingle with the new majority women county councilmembers and other Montgomery County leaders making a difference. Emceed by NBC4's Shawn Yancy, the event will also feature a raffle of artworks by local award-winning artists and sports tickets. Funds raised from this event will support media training and camps for low and moderate-income families throughout Montgomery County. MCM is educating and giving media access to the next generation of young journalists and creatives.
Celebrate Historic Council Election
MCM is excited to announce a special addition to our upcoming Party with a Purpose, on November 30th, 2022. This week was a historic election in Montgomery County. Voters elected the most diverse County Council in history and for the first time in our county's history we now have a women majority council. Six dynamic and diverse women were elected to the council; and we at MCM believe this win for women is cause for celebration. That's why we will be celebrating our six new councilwomen at the event.
During the event, we will also be presenting awards to Councilmember Nancy Navarro, Former Mayor Pro Tem of Takoma Park and City Councilmember Vernon Ricks (who was the first African American elected in Montgomery County), Manna Food Center and Mercy Health Clinic. Come out and celebrate this outstanding group of community leaders. This is an event you don't want to miss!
Tickets are available at the early bird rate only until Tuesday, November 15.
We look forward to you joining us for a night of community and celebration along with the event's honorary host committee, the current members of the Montgomery County Council.
Awards Ceremony
During the event, we will present awards to Montgomery County leaders making a difference in communities across the county.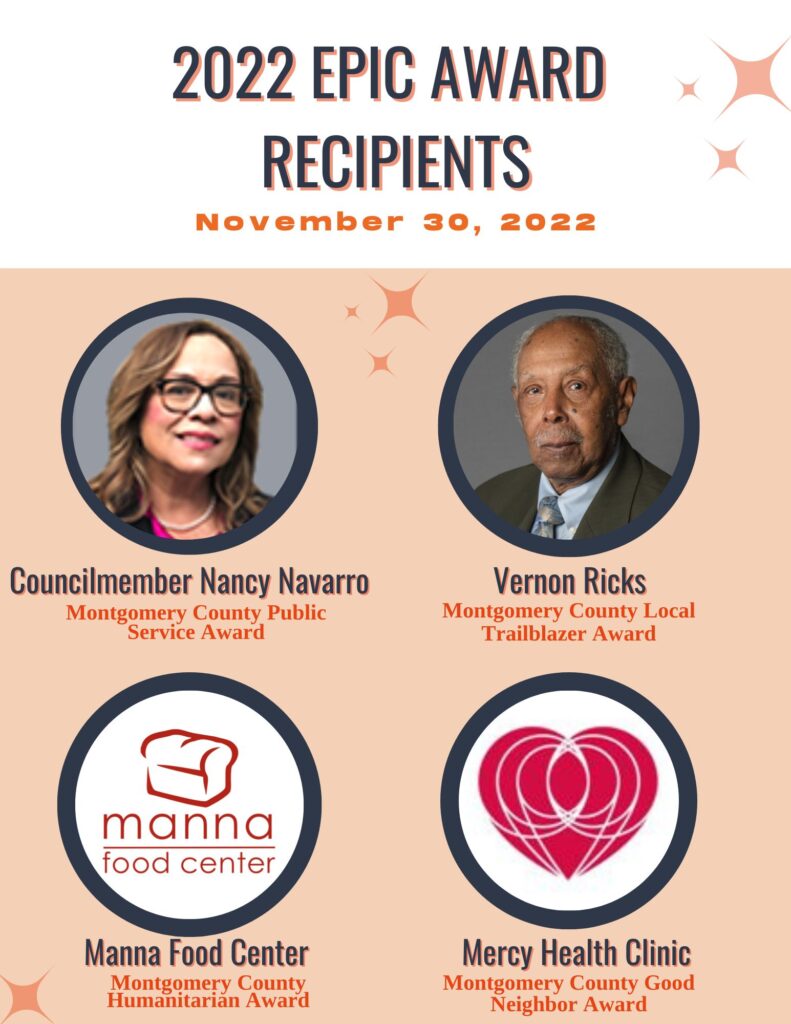 Emcee
Shawn Yancy is our emcee for Party with a Purpose. Shawn is an Emmy & Edward R. Murrow award winning broadcast journalist and evening news anchor at NBC4 in Washington, DC. Prior to joining NBC4, Shawn spent nearly 2 decades as a primary news anchor at WTTG-TV. Her career journey also includes stops at WTAE-TV in Pittsburgh and WKJG-TV in Ft. Wayne, IN.
Shawn is the founder and CEO of Girls' Night Out by Shawn Yancy Inc., a 501(c)(3) dedicated to empowering and improving the lives of economically vulnerable women & children. Shawn previously served on the board of directors for A Wider Circle, Dress For Success DC and The St. Ann's Center for Children Youth & Families. Along with her fellow DC newswomen, Shawn helps spearhead an annual breast cancer fundraiser for local cancer charities serving the underserved.
Raffle
MCM will raffle several items at Party With a Purpose: two pieces of original art, four tickets to a Washington Capitals game and an autographed puck, six Georgetown Hoyas Tickets to a game, a voucher for media classes with MCM , a MCM studio rental session, and a dinner for two catered by Key Ingredients.
Two original pieces of art created by local artists Paula Cleggett and Doudgy "Dew" Charmant are included in the raffle. Both artists were featured in MCM's Emmy-award winning Black Artists in Montgomery County series.
Host Committee:
MCM Board of Directors
Board President: Jeffrey Slavin, Mayor of the Town of Somerset
Board Vice President: Vernon Ricks, Former Mayor Pro Tem of Takoma Park and Councilmember
Board Treasurer: Juanita Farmer, Farmer & Associates, LLC
Board Secretary: Jeannette O'Connor, Woodside Park Strategies
Board At-large: Valerie Ervin, SEIU International Union
Khadijah Ali-Coleman, Ed.D., The Hurston/Wright Foundation
Monica Costa, Wilniq Auto Body & Mechanical Repairs
Stephen Deming, Microsoft
Malcolm Ethridge, CIC Wealth Management
Dottie Li, TransPacific Communications
Eric Myers, M&T Bank
Honorary Host Committee:
Montgomery County Executive Marc Elrich
Montgomery County Council President Albornoz
Montgomery County Council Vice President Evan Glass
Montgomery County Councilmember Andrew Friedson
Montgomery County Councilmember Sidney A. Katz
Montgomery County Councilmember Nancy Navarro
Montgomery County Councilmember Craig Rice
Montgomery County Councilmember Hans Riemer
Montgomery County Councilmember Will Jawando
THANK YOU TO OUR SPONSORS
Sponsorship Opportunities:
Investing in MCM is an opportunity to strengthen your commitment to your community, ensure the sustainability of Montgomery County's only source for non-profit local county-wide news, and support access to media training and resources for underserved populations in our County.
By investing in MCM, you are only helping to ensure the viability of a critical community resource. In addition, you will benefit from the many options for recognition and promotion that comes at our various sponsorship packages. Of course, if you prefer a benefits package that is more tailored to your goals, we would be happy to help create that for you.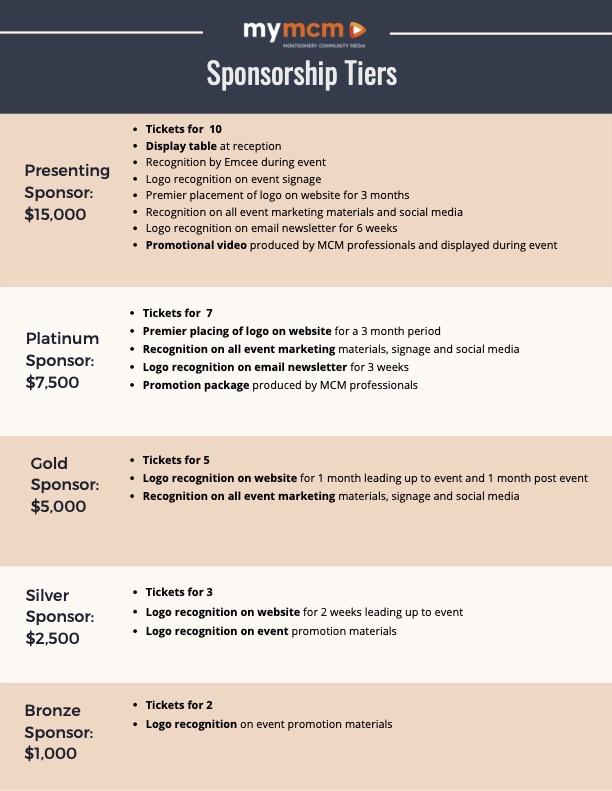 Click here to fill out the sponsorship reservation form or for more information.
For questions or more information, please contact us at:
Email:
randemichael@mymcmedia.org
Phone: 240-630-0613
Montgomery Community Media
7548 Standish Place, Rockville, MD 20855