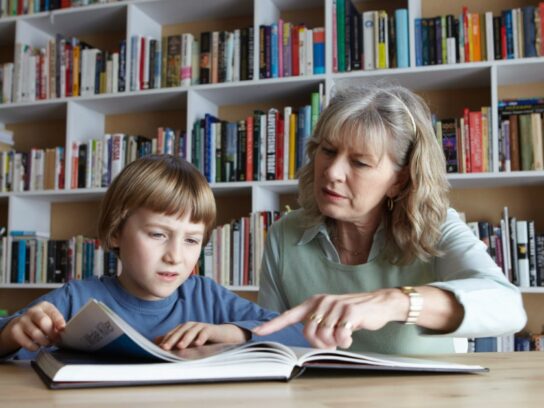 The "Grandreaders" Program, which seeks to help younger students with reading, will be made available this summer by Montgomery County Public Libraries (MCPL) and the Jewish Council for the Aging (JCA), the county announced last Wednesday. 
The program is designed for children in kindergarten through third grade and will operate by pairing them with a "Grandreader" volunteer to practice reading out loud. According to a press release last Wednesday, the volunteers will be older adults.
Residents will be able to participate for five weeks, from the end of June to the end of July, and can access "Grandreaders" at various libraries in the county. These include Aspen Hill Library, Gaithersburg Library, Wheaton Library and White Oak Library. 
Registration for the program will not be required. Students who are interested in participating are asked to "bring their own book or select one from the library."
Montgomery County Public Libraries will be offering the "Grandreaders" Program at several branches this summer. The one-on-one program pairs a Grandreader volunteer with a child from kindergarten to third grade to practice reading aloud. 📰➡️ https://t.co/glSRbi1gsH pic.twitter.com/nRtDcB2PsY

— Montgomery County MD (@MontgomeryCoMD) June 22, 2022
"The beauty of the summer Grandreaders program is that students are able to pick out books that pique their interests and be paired up one-on-one with an encouraging, supportive older adult who is there to provide their full attention and focus," said Rachel Lanman, the Program Coordinator at the JCA who is responsible for leading the program this summer. 
Lanman believes that the program is especially helpful because of its ability to provide "consistency and reinforcement" to young readers each week, something that they were unable to offer since before the pandemic. 
"While we haven't been able to offer Grandreaders during the pandemic, we are thrilled to be one of the first in-person programs welcomed back into the libraries," said Lanman. "With the combination of students already being impacted by Covid and the time off from school during the summer, the Grandreaders program provides a critical need to help students keep up their reading when not in school and continue the joy of learning."
The following schedule for the "Grandreaders" program this summer was released by the county:
Wheaton Library – Mondays from 10:30 a.m. to 11:30 a.m.
Gaithersburg Library – Wednesdays from 11 a.m. to noon
White Oak Library – Wednesdays from 3 p.m. to 4 p.m.
Aspen Hill Library – Thursdays from 3 p.m. to 4 p.m.
For older adults that wish to volunteer as a "Grandreader," the county asks that you contact the JCA Heyman Interages Center. Parents that wish to learn more may contact any of the four participating libraries as well as email Clotilde Puertolas at Clotilde.puertolas@montgoomerycountymd.gov. 
"This program is so important because it fosters a deeper love for reading and greatly builds student's self-confidence," said Lanman. "By bringing together the generations through the love of reading, we hope both the children and volunteers build connections and discover that they have a lot to give each other as well."