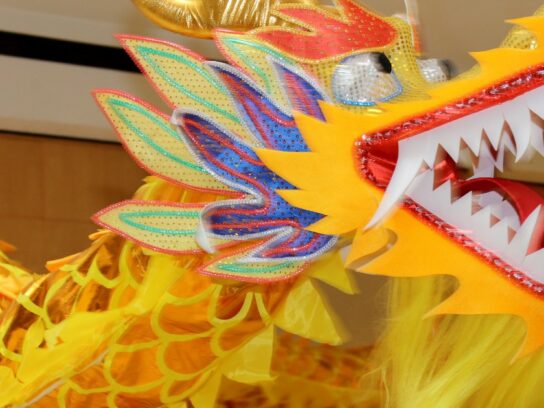 The Lunar New Year – also commonly known as Chinese New Year – begins Sunday, Jan. 22 and marks the beginning of the Year of the Rabbit. Lunar New Year is considered the most important holiday in China, and is celebrated in both North and South Korea as well as Vietnam. The new year celebrations traditionally last for 16 days starting from New Year's Eve to the Lantern Festival.
Here's how to celebrate Lunar New Year in our area:
Lunar new Year Celebration The Chinese Culture and Community Service Center, a Gaithersburg-based nonprofit that promotes the appreciation of Chinese heritage,  hosts the Lunar New Year Festival in collaboration with the Westfield Montgomery Mall. Enjoy a traditional dragon dance, exhibits and performances on Saturday, Jan. 22 and 29 from 2 to 4 p.m.
Rockville Lunar New Year Celebration  The event is organized with the help of Rockville's Asian Pacific American Task Force and includes performances, interactive displays, activities for kids, and to-go bento boxes. The celebration takes place Saturday, Jan. 28 from 10 a.m. to 1 p.m. at Thomas S. Wootton High School. Performances will begin at 11 a.m.
Gaithersburg Lunar New Year Drop-in Activity  Explore the Lunar New year with a craft at the Gaithersburg Community Museum on Saturday Jan. 21 and Sunday, Jan. 22 from 11:30 a.m. to 3:30 p.m. The local 4-H Club will bring their rabbits to the event.
Rockville Lantern Festival  The Rockville Sister Cities Corporation organizes this family-friendly event which features the Dragon Dance, cultural performances, activities, story telling and a photo booth on Saturday, Feb. 11 from 11 a.m. – 2 p.m. at the F. Scott Fitzgerald Theatre in Rockville.
Library Events
The programs include crafts, folk dancing and singing, and traditional Lion Dance performances.
Saturday, Jan 21 from 11 a.m. – 1 p.m.
Children four years old and up and their adults are invited to celebrate The Year of the Rabbit with a story read in both Chinese and English, a dance for everyone to learn and creating a Chinese lantern. Free tickets will be distributed 30 minutes before the program.
Chevy Chase Library, 8005 Connecticut Avenue, 240-773-9590
Saturday, Jan. 21 from 2 – 4 p.m.
Storytelling for the whole family. Experienced and beginning storytellers are invited to celebrate rabbits and the Lunar New Year.
Quince Orchard Library, 15831 Quince Orchard Road, Gaithersburg, 240-777-0200
Saturday, Jan. 28 from 11 a.m. – 12:30 p.m.
Li-Ming Chinese Academy leads a Lunar New Year celebration for all ages. Following the library's Bilingual Storytime, join students and faculty from the Li-Ming Chinese Academy in Rockville, as they teach Lunar New Year customs and history. Witness various cultural activities like the Chinese yo-yo, shadow puppets, and of course the ever popular lion dance.
Germantown Library, 19840 Century Blvd., Germantown, 240-777-0110
Explore more Lunar New Year events at the libraries, here.
New Year Events Happening in D.C.
National Museum of Asian Art Lunar New Year (noon to 4 p.m. Saturday, Jan. 21, National Museum of Asian Art in D.C., free): A traditional lion dance, cooking demonstration, special gallery tour and hands-on activities will mark the start of the Year of the Rabbit.
2023 Annual Chinese Lunar New Year parade
Sunday, Jan 22 at 2 p.m. at Chinatown/Gallery Place in D.C.
A parade of performers and community members along parts of Eye, 8th, G, 7th and H streets Northwest will conclude with a firecracker show in the middle of H Street.
Smithsonian American Art Museum and Renwick Gallery Lunar New Year Family Celebration
Saturday, Jan 28 at 11:30 a.m. – 3 p.m.
Chinese and Korean traditions showcased with performances, crafts, food, and more. Learn about the importance of the Lunar New Year across cultures and explore the gallery's collections with an art scavenger hunt. A special menu in honor of Lunar New Year will be offered by the Courtyard Café. This program is presented in partnership with the Embassy of the People's Republic of China in the United States of America and with the Korean Cultural Center, Washington, D.C. and is part of Lunar New Year DC, organized by the Smithsonian American Art Museum.
free, reservations encouraged
DAR Museum and Asian Fusion Gallery Lunar New Year Festival
Saturday, Jan 28 from noon – 5 p.m.
Join the DAR Museum and the Asian Fusion Gallery for a celebration of Lunar New Year. Free event featuring games, food, and performances!
free, reservations encouraged