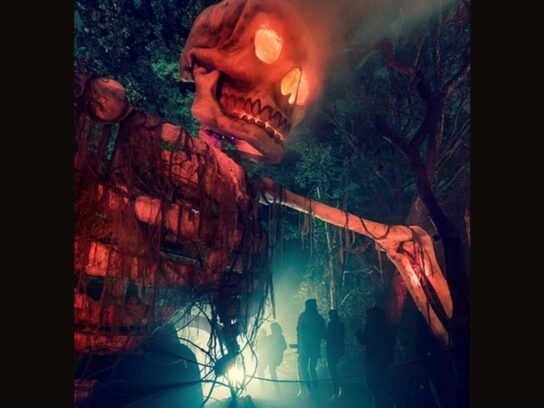 If you're looking to have some spooky fun in or near Montgomery County as Halloween approaches, here's a list of haunted houses, spooky walks and hayrides for the scariest day of 2020.
To Chill You to Your Bones…
The Field of Screams Maryland in Olney is still jolting fear into the hearts of its visitors for this Halloween season. Due to the COVID-19 pandemic, all ticket purchases must be done online and masks are mandatory. A ticket is good for up to six people. If you decide to only have four or five people in your group, the ticket price still stays the same. There are no tickets being offered for one, two, three people etc. The entire Field of Screams Maryland experience will be touchless. Good luck walking their trail that is described as creating intense panic and fear.
Laurel's House of Horror is ready to freak guests out, but the house of horror is still awaiting the green light to operate. Prince George's County closed their doors due to health concerns during the pandemic. The house of horrors in Laurel is an indoor location. With many people screaming at the location, officials are unsure whether it's safe considering COVID-19 transmits by airborne micro-droplets. Laurel's House of Horrors' website says that they are COVID ready and prepared to open their doors. Once the county approves a reopening, the house of horrors says physical distancing rules will only make it that much more terrifying.
Try walking through Markoff's Haunted Forest longest trail. The haunted forest in Dickerson has a new Hybrid trail that combines the best of Trail 1 and 2 plus a few extras to really get your scream on. The Town attraction will not be open this year. Markoff's Haunted Forest requires advanced online tickets, small group arrivals, and timed entry for an entirely outdoor experience that provides plenty of social distancing and involves few frequently touch surfaces. And of course, enjoy your terrifying experience while wearing a mask.
Take a hayride into the dark at Kindred Hills. This scary and fun event in Frederick takes you through a  dimly lit trail through the woods that will lead you past remnants of a previous time, then back to the safety of the modern-day. The next event times are the weekend of Oct.  25 and 26 and tickets must be purchased online.
For a Not So Spooky Night…
Join Butler's Orchard in Germantown under a full moon for their annual Halloween Graveyard Jam. There's an optional hayride where you can explore the huge orchard grounds by sunset  – and look out for hidden Halloween surprises that may pop up on your trip. Enjoy a roaring bonfire with s'mores, hot dogs, sodas, marshmallows, candy and much more. During the evening, there will be a costume contest where the best costume wins a trip to the Caribbean. Additionally, there will be music and a glow party. Masks are required for the hayride and whenever grouping is required. Tickets are sold online.