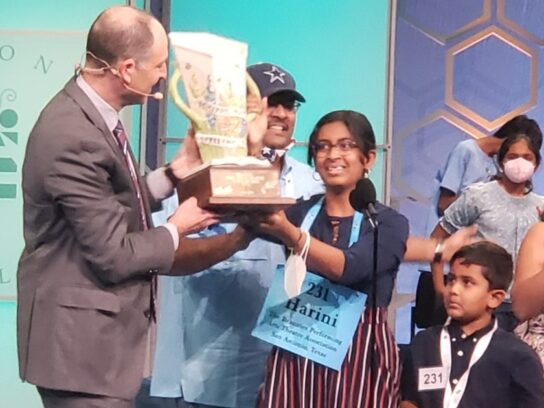 Eighth grader Harini Logan was named Scripps National Spelling Bee champion in a contest that featured spelling, vocabulary and speed.
Logan, of San Antonio, Texas, proudly raised the championship cup after correctly spelling 22 words in 90 seconds during the Bee's first-ever spell off. Vikram Raju correctly spelled 15 words to become the second place finisher.
THIS IS INTENSE pic.twitter.com/3UKFCkOrdZ

— Timothy Burke (@bubbaprog) June 3, 2022
Logan prevailed during her fourth year competing in the national bee. Her road to the bee began last fall when 11 million students competed in their local schools and towns. It lasted through this week at Gaylord National Harbor, beginning Tuesday when 229 students that had bested their regional competitions made it to the preliminary round.
Representing Montgomery County was Vikram Reddy, an eighth grader at Robert Frost Middle School in Rockville.
There was plenty of drama during the finals. Logan was eliminated during the vocabulary round but then called back to continue competing after it was ruled that her answer "could be construed as correct," according to Scripps official pronouncer Jacques Bailley.
Thirteen students made it to the finals, which culminated in a battle between Logan and Raju of Denver, who knew the roots of words from many languages. During the finals, those two ended up misspelling such words as senijextee, powys, drimys and otukian before moving on to the speed round.
During the speed round, Logan was impressively quick and appeared to spit out a nonstop slew of letters, enabling her to win and earn $50,000. Raju walked away with $25,000 and a determination to return in 2023.
By correctly spelling 22 words in the Spell-off, the 2022 Scripps National Spelling Bee Champion is #Speller231 Harini Logan! #spellingbee pic.twitter.com/pl0NTznYVr

— Scripps National Spelling Bee (@ScrippsBee) June 3, 2022
Congrats Vikram on his participation in the @ScrippsBee ! https://t.co/agF2V8R2S8

— MyMCMedia (@mymcmedia) May 31, 2022
Here is the entire spell off round.