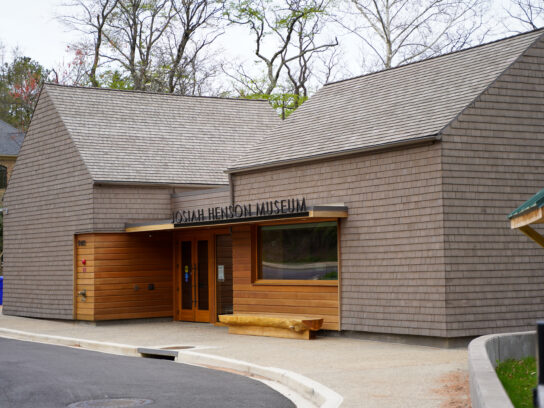 The Josiah Henson Museum and Park drew a steady stream of guests through its doors as it celebrated its first anniversary on Saturday. For a special anniversary celebration price of $1 per person, guests could enter the North Bethesda museum and former plantation to learn the story of Reverend Josiah Henson, whose autobiography inspired "Uncle Tom's Cabin," and who was once enslaved upon that land.
Nestled a few yards from Old Georgetown Road and Tilden Lane, the Josiah Henson Museum and Park opened its doors last April and has spent the last year evolving with its community, and with the pandemic. That evolution involved working out some "kinks," according to Imani Haynes, the Education Program Manager of the museum. Some of those kinks involved figuring out a traffic flow of the guests throughout the experience, which includes a tour inside the historic Riley/Bolten house and its attached log kitchen, and turning what was intended to be a sensory-driven experience into something COVID-safe. For that, Haynes hands every guest who walks in a special, branded stylus that allows them to encounter the history safely, while still experiencing the history in a hands-on way that she maintains is critical. "When we talk about history, that's all we're doing. We're always talking about it. No one's ever touching it," said Haynes, and added that being able to touch history can help make it real.
Making history real is part of the museum's mission. The back end of the plantation flows into the backyards of other homes as it has for decades in this majority-white section of Montgomery County, and yet several guests expressed surprise at its existence. For Ari Ngaseo, a nurse at Walter Reed and a volunteer charged with guiding visitors through the Riley/Bolten house, the fact that many in the community don't know the story of Josiah Henson is part of what makes the mission of the museum so important. "Montgomery County is so blue, we don't think of it as a place that had plantations," said Ngaseo, and adds that he volunteers for personal reasons too. "My own presence in this country is owed to this struggle," said Ngaseo, who is an immigrant himself, and wants people in the community to know the history.
Community and history come up a lot when talking about the Josiah Henson Museum and Park, and those are two factors which seem to draw repeat visitors, like David Bellamy. A two-time visitor and once a teacher at the old Tilden Middle School, Bellamy noted the importance of role models for kids, and in particular role models who look like them, who are part of their history. "Why isn't every kid in Montgomery County coming here?" he asked, motioning to the museum and plantation.
For Imani Haynes, expanding the educational offerings — and the rest of the museum — is part of the near future. From pilot programs for in-person and virtual school groups to adding a pavilion and an outdoor archeology classroom, this small museum has big plans to be a part of this community in the future as it preserves its past. All of that, said Haynes, is part of the same mission to turn "what was once a place of oppression into one of learning."