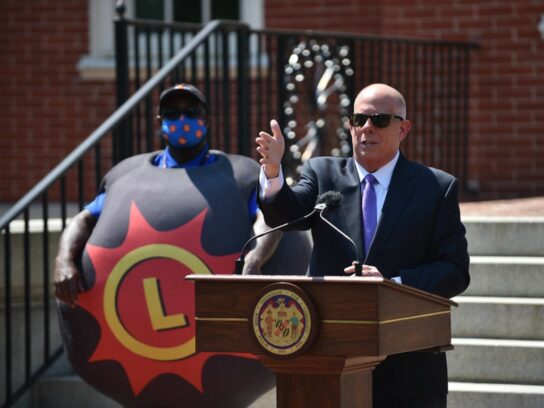 Marylanders 18 years and older who get COVID-19 vaccinated in the state will be automatically entered into a new lottery, Gov. Larry Hogan announced during a press conference Thursday.
Beginning Tuesday, May 25, the Maryland Lottery will randomly award $40,000 to a vaccinated resident for 40 straight days — through July 3. On July 4, Hogan said "one lucky vaccinated Marylander" will win a $400,000 grand prize. The promotion totals $2 million in prize money for 41 residents.
Entry is automatic: every Maryland adult who received their COVID-19 vaccine at any time in the state is entered. The state health department will notify winners.
"If you've not been vaccinated yet, the sooner you do so, the sooner you get your shot, the more lottery drawings you will be eligible for," Hogan said. All funding is coming from the Maryland Lottery's marketing fund, he said.
One shot is required for eligibility, Maryland Lottery and Gaming Director Gordon Medenica said. He said the state health department will attach a string of numbers to each vaccinated resident, and the Maryland Lottery will use that within a random number generator to pick a winner each day. Then, the health department will use that number to locate and notify winners. Residents will have to sign and give consent to receive the prize, and then the Lottery will be able to contact winners and go through the usual claiming process. Winners can stay anonymous.
"However, we would very much enjoy it if at least some of our winners will in fact let us celebrate with them their lucky streak," Medenica said.
Hogan said residents will be entered into the lottery quickly upon being vaccinated. He believes that even if residents receive their shot on July 3, they should be eligible for the July 4 grand prize.
"Please get vaccinated so that we can all finally get back to our normal lives. And if you needed one more good reason, then just go out and get vaccinated for your chance to win a share of this $2 million," Hogan said.
"Get your shot for a shot to win."
NEW: Gov. Hogan says starting this coming Tuesday, the Maryland Lottery will randomly choose and award $40,000 to a vaccinated Marylander everyday for 40 days, through July 3.

On July 4, a final $400,000 grand prize will be awarded. @mymcmedia

— Maryam Shahzad (@maryam_mcm) May 20, 2021
How to win: be an 18+ years old Maryland resident and get COVID-19 vaccinated.

Hogan says anyone 18+ who has already been vaccinated in Maryland at any time is eligible and will automatically be entered. Winners will be notified by the state health department. @mymcmedia

— Maryam Shahzad (@maryam_mcm) May 20, 2021