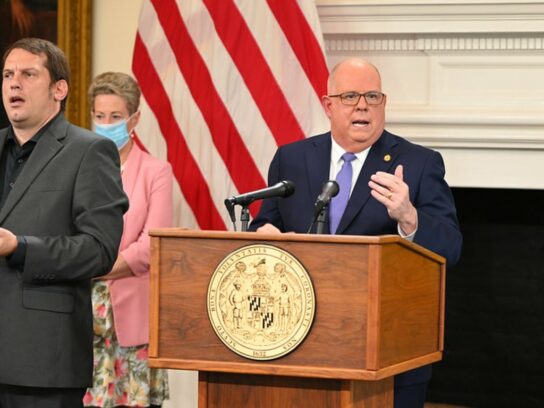 Gov. Larry Hogan announced that as a result of improving health metrics, every county in Maryland is now "fully authorized" to begin safely reopening schools for in-person learning.
"Now nearly everyone agrees that there is no substitute for in-person instruction," he said at a press conference Thursday. Hogan said he hears from parents every day who are frustrated that their school board will not attempt to make plans to bring kids back to school, even though health metrics are improving.
"This is simply not acceptable. It is essential that we all work together on flexible, hybrid plans to safely get some of our kids back into classrooms and into healthy and supportive learning environments."
He said the Maryland State Department of Education (MSDE) asks school boards to develop safe, phased plans for a return to in-school learning in order to bring back normalcy to students, teachers and parents. State Superintendent Dr. Karen Salmon agreed and said she strongly encourages school systems to re-evaluate their fall plans by the end of the first quarter, especially those systems that plan to stay virtual until January.
The metrics Hogan referenced Thursday include that Maryland's COVID-19 positivity rate has been under 5% for 63 consecutive days, and under 4% for 19 days since Aug. 8. For the first time this week, Hogan said positivity rates for all jurisdictions fell below 5% and 17 of the 24 have a rate below 3.5%. Hospitalizations have decreased almost 76% since they peaked over 100 days ago, and Hogan said ICU levels have decreased 32% in the last month.
Hogan said COVID-19 trends in young people have been dramatically improving. The gap in positivity rates in those 35 and younger vs. 35 and older has narrowed significantly. The rate for those under 35 has declined by 44% since July 23 and is now at 3.79%. The rate for those 35 and older is now at 2.79%, Hogan said.
Watch today's press conference live on YouTube: https://t.co/M0J1RT3mtU

— Governor Larry Hogan (@GovLarryHogan) August 27, 2020
Hogan said 16 jurisdictions included some type of in-person learning in their fall semester plans, while eight did not include any. He said all key metrics have dramatically improved since some counties made their "original quick decisions on mass closures."
"So let me be clear: the State Department of Education and the Maryland Department of Health believe that all county school systems are able to begin safely reopening," he said. He acknowledged that authority in this decision rests with school boards, but said decisions should and must be based on state guidelines and benchmarks.
"Perhaps it was easier for a local school board to simply say they do not want to open…"
On Tuesday the Montgomery County Board of Education unanimously approved an all-virtual fall semester plan. It includes synchronous and asynchronous learning. Following Hogan's press conference, Montgomery County Public Schools (MCPS) released a statement expressing disappointment.
"We thank Governor Larry Hogan and State Superintendent Karen Salmon for their guidance on the return to in-person instruction for local school districts. However, we are deeply disappointed by the last-minute announcement of this critical information for school systems," the statement reads.
"MCPS will begin the school year in a virtual-only instructional model on August 31, as scheduled" – Statement from the @mocoboe and MCPS on Governor Hogan's Guidance on a Return to In-Person Instruction. https://t.co/OW4pw75Lst

— MCPS (@MCPS) August 27, 2020
"MCPS will begin the school year in a virtual-only instructional model on August 31, as scheduled. We know many in our community will have questions about what this new guidance means for our students. Please allow us time to thoughtfully assess these important developments and continue to prepare for a successful start to the school year."
Dr. Jinlene Chan, Acting Deputy Secretary for Public Health Services with the Maryland Department of Health (MDH) explained new benchmarks the state issued Thursday for counties to use in determining how to reopen.
If test positivity is below 5% and the new case rate is at or below five per 100,000, then that county can open for in-person schooling with health guidelines in place. If positivity is below 5% and the new case rate is above 15 per 100,000, then that county can open for limited in-person education.
Hogan said Maryland committed $345 million in education funding through the CARES Act for technology, addressing academic accessibility, tutoring for at-risk students and expanded broadband.