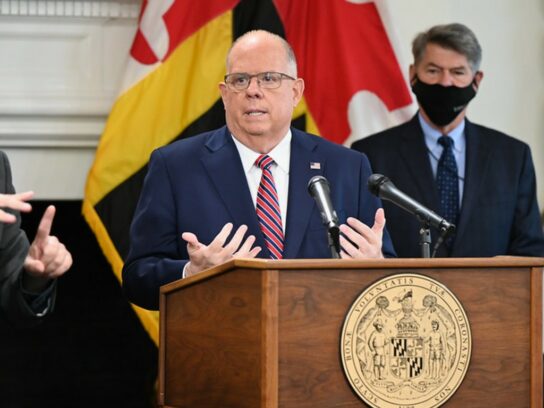 Gov. Larry Hogan announced during a press conference on April 9 the formation of a workgroup to address the rise in violence targeting the Asian American community,
"This workgroup, one of the first of its kind in the country, will be composed of a wide ranging group of experts and advocates across various disciplines who will be tasked with developing recommendations, strategies and additional actions that can be taken to address this rise in anti-Asian activity, to prevent acts of violence and to support victims and witnesses," Hogan said.
Hogan also named former U.S. Attorney for the District of Maryland Robert K. Hur as the chair of the workgroup. As chair, Hur will oversee the selection of members of the workgroup.
"As an Asian American I am so grateful to Governor Hogan and the first lady for focusing attention on the important issues of bias and violence against members of the Asian American communities in our nation," Hur said. "I am now concerned for my parents' safety and the safety of other members of my family on the basis of their physical appearance. That is a fear that no one should have to have."
Although crimes against Asian Americans have increased during the COVID-19 pandemic, Hogan said that these incidents are nothing new. In 2020, hate crimes in 16 of America's largest cities declined by 7%, yet hate crimes targeting Asians rose by nearly 150%. In Maryland, these hate crimes have more than doubled since 2018.
"That hit close to home for me and my family," Hogan said. "Like so many of their fellow Asian Americans, my wife and our three daughters have had to contend with some of this throughout their lives."
The workgroup's areas of assessment may include advocacy community engagement, business community engagement, law enforcement strategies, prosecutorial strategies, witness outreach and protection and victims' services.
In March, Hogan announced that he was directing state law enforcement officials to increase enhanced visibility patrols. He also encouraged victims and witnesses to report incidents to the state's Hate Crimes Hotline (1-866-481-8361).
We are launching a statewide Asian American Hate Crimes Workgroup, chaired by former U.S. Attorney Robert Hur, to help guide our administration's long-term response to the recent rise in anti-Asian racism and attacks.

Details: https://t.co/3QEGHpUrCP pic.twitter.com/YHpwTLvReN

— Governor Larry Hogan (@GovLarryHogan) April 9, 2021
Our Asian American community is now facing challenges far worse than we have seen in decades, and I continue to call on more leaders across the country to speak out against this threat. #StopAsianHate

— Governor Larry Hogan (@GovLarryHogan) April 9, 2021