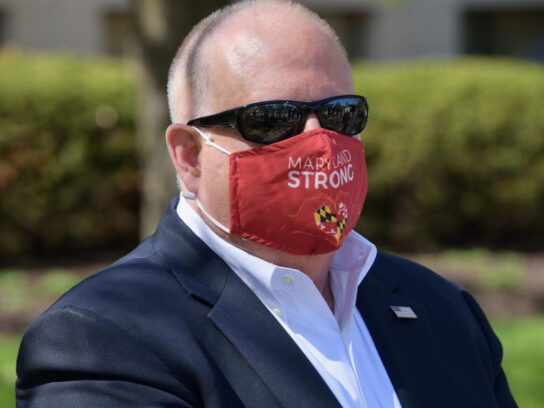 Maryland's indoor mask mandate is lifted effective Saturday, Gov. Larry Hogan announced at a press conference Friday. Public transportation, healthcare settings, and schools are the only exceptions, he said.
BREAKING: Gov. Larry Hogan announces Maryland will lift its indoor mask mandate TOMORROW.

Public transportation, health care settings and schools are the only exceptions. @mymcmedia

— Maryam Shahzad (@maryam_mcm) May 14, 2021
Hogan says businesses and workplaces can set their own masking policies, of course, however there will no longer be any legal mandate from the state. He strongly encouraged those who have not yet been vaccinated to get their shots.
Note, counties and jurisdictions are allowed to enforce stricter COVID-19 regulations than the state. It's unclear if Montgomery County will follow Hogan's order to lift the mask mandate. Councilmember Andrew Friedson said Friday, "A clarification on the mask rules will be announced shortly and formally taken up in an amended health regulation on Tuesday."
For Montgomery County @mymcmedia:https://t.co/0Qo9lvvkq5

— Maryam Shahzad (@maryam_mcm) May 14, 2021
The Montgomery County Council, sitting as the Board of Health, passed its latest regulation in late April, which implements reopenings based on the percentage of county residents vaccinated. More than 50% of county residents have been fully vaccinated, Friedson said Friday. According to the council's phased plan, that means the county will enter its final reopening phase two weeks from Friday. All county restrictions will be removed and the county will align with state guidelines.
More than 50% of Montgomery County residents have received both COVID vaccine doses or the 1-shot J&J.
That means two weeks from today, we will enter the final phase of reopening and all County restrictions will be removed. State restrictions will remain in effect. pic.twitter.com/TeOy4c7zTc

— Councilmember Andrew Friedson (@Andrew_Friedson) May 14, 2021
Hogan urged Marylanders to be kind to one another as guidelines shift.
"Now as many of us take off our masks and start to put this pandemic behind us, I ask each and every one of you to please just be kind and respectful of one another. Some people feel comfortable getting back to normal life right away. For others, it may take more time before they feel safe. That's perfectly okay and we should all respect each other," Hogan said.
"You are all Maryland strong, and I'm so proud of the people of this great state."
Watch the press conference below.