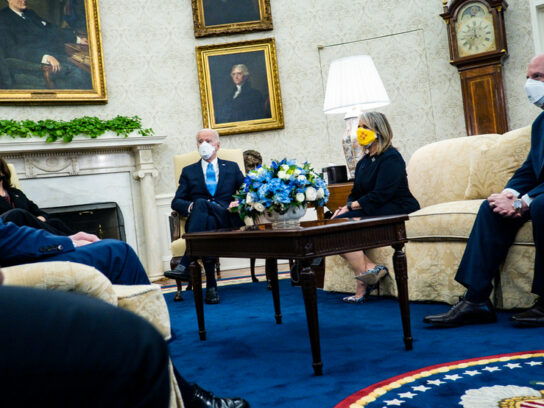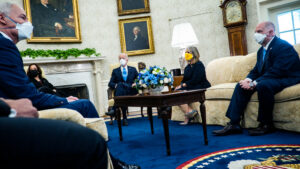 On Friday, Governor Larry Hogan traveled to the White House to meet with President Joe Biden. Hogan was one of several governors in attendance to discuss the Biden administration's plan to respond to the COVID-19 pandemic.
Others in attendance were Vice President Kamala Harris and several other bipartisan lawmakers.
Governor Hogan tweeted his full statement after the meeting saying, "As I told President Biden, there is no reason why he and Republicans in Congress cannot forge a compromise that addresses the nation's top priorities in this crisis."
I greatly appreciate the opportunity to be one of the first governors to meet with President Biden and Vice President Harris as we work together to end this horrific pandemic.

My full statement on today's meeting in the Oval Office: pic.twitter.com/WtQbHEf5kr

— Governor Larry Hogan (@GovLarryHogan) February 12, 2021
Biden recently launched his "American Rescue Plan" initiative that would provide a third round of stimulus checks to help alleviate the effects of the pandemic.
Hogan urged President Biden to "take any imaginable step in his power to increase the production of vaccines." Since the development of a COVID-19 vaccine, there has been scarcity across the country on the availability of appointments.
Maryland residents have expressed disappointment with the state's distribution strategies, saying that is incredibly difficult to find appointments for the vaccine.
President Biden is currently working with the federal government to ensure that around 300 million vaccines are readily available by the end of July.
Hogan delivered good news via Twitter including details of the Relief act that will provide over 1 billion in tax deductions for struggling Maryland residents.
The RELIEF Act will deliver more than $1 billion in tax relief and economic stimulus for struggling families and small businesses. It will help Marylanders barely hanging on right now as we work to bring this global pandemic to an end.

— Governor Larry Hogan (@GovLarryHogan) February 12, 2021
Hogan says he will continue the bipartisan fight in ensuring that Maryland residents will be supported throughout the duration of this pandemic.
Hogan's relationship with former President Donald Trump was strained, as they often disagreed on how to respond to the COVID-19 pandemic, along with other issues. Governor Hogan would often participate in conferences via phone under the Trump administration and is grateful for the opportunity to work with President Biden on efforts moving forward.