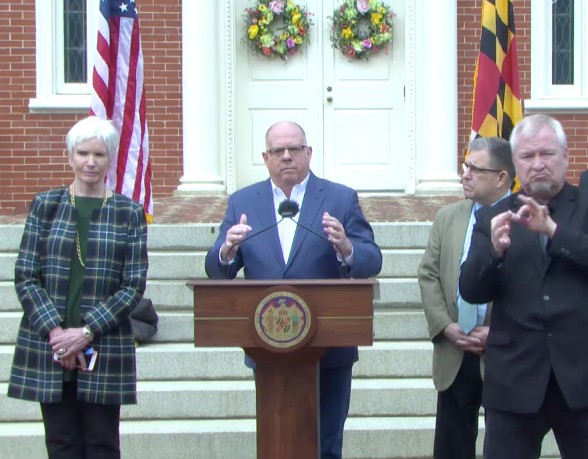 Hogan Postpones Primary Election, Says Most COVID-19 Cases Are Community Transmission
Gov. Larry Hogan postponed the April 28 Maryland primary election to June 2 due to the COVID-19 coronavirus outbreak, he announced in a press conference Tuesday. 
"It would endanger public health to allow thousands of people to assemble in places like schools and senior centers which are already closed under the state of emergency," he said. Hogan directed the Maryland Board of Elections to develop a plan by April 3 to conduct the election in a way that protects public health as well as the democratic process.
The special election for the late Elijah Cummings' 7th district seat is still on, however, through a vote-by-mail system. 
Hogan said most cases of the coronavirus in Maryland are now community transmission and are not attributed to overseas travel. There are currently 57 confirmed cases in Maryland, with Montgomery County having the highest count, 24. 
For additional actions, he said that all vehicle emissions inspection sites will cease inspections, and the sites will be repurposed for drive-thru coronavirus testing. 
The state is also moving to 100 percent cashless tolling on roads. All non-commercial driver's license tests are suspended, and MARC train service will be reduced by 50 percent.
The governor said he asked President Donald Trump to extend the federal REAL ID compliance deadline. Currently, the deadline for licences and identification cards to be REAL ID compliant is Oct. 1. 
Hogan said stores will remain open and won't run out of essentials. He urged people not to hoard. 
"Everyone should use common sense. Panic buying just increases person-to-person exposure. Instead of hoarding cleaning and hygiene products, share with your neighbors," Hogan said. 
"All the stores are going to remain open, they're all restocking the shelves, we're not going to run out of those basic necessities. We're all in this together."
LIVE: COVID-19 Announcement – March 17, 2020https://t.co/xCZNwA7qBI

— Governor Larry Hogan (@GovLarryHogan) March 17, 2020