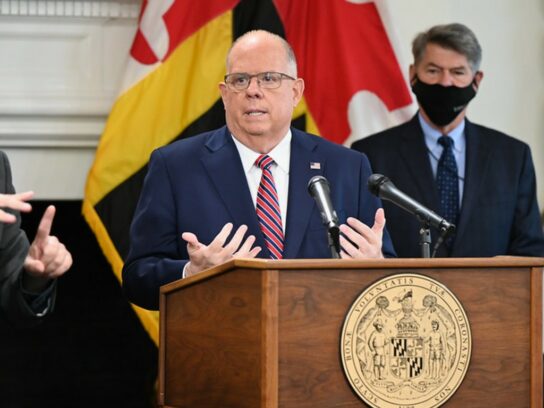 Gov. Larry Hogan announced that Maryland is pulling $250 million from its rainy day fund to offer further economic relief.
The money will fund new relief programs and the expansion of existing programs, Hogan said at a press conference Thursday. He called on federal leaders to take similar action and pass further stimulus relief. Hogan said there is increasing indication that national economic recovery is stalling.
"The failure of Washington to provide additional stimulus relief for our small businesses, struggling families and to the states for economic recovery is having a devastating impact," he said. "And we need both parties in Washington to stop playing politics, to end the gridlock and to get this done for the American people."
Hogan figured it's too late to expect federal relief before the November election, but hopes it will come afterward.
"We still need that next stimulus package at the federal level. Obviously it appears as we're not going to get that before the election," he said.
"I'm hopeful that, regardless of what happens in the election… that Congress will maybe be able to work out their differences in both houses, in both parties and that maybe we can reach some kind of an agreement because we really need the funding from the federal government."
The breakdown of the $250 million by category is as follows:
$100 million: Emergency rapid response fund for small businesses (set aside)
$50 million: Maryland Small Business COVID-19 Relief Grant Fund
$50 million: Restaurants
$20 million: Main Street Maryland program
$20 million: COVID-19 Layoff Aversion Fund
$5 million: Small and minority business low-interest loans
$3 million: Arts organization funding
$2 million: Hometown tourism programs
Today I announced the $250 million #MarylandStrong Economic Recovery Initiative, which doubles the state's total commitment to COVID-19 emergency economic relief to support the small businesses that need it most.

Details: https://t.co/J1j0uRYBSB pic.twitter.com/WN2x0sn6Ld

— Governor Larry Hogan (@GovLarryHogan) October 22, 2020