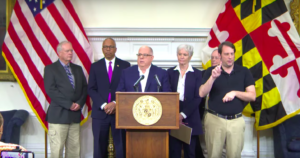 Gov. Hogan said in a press conference that the patients with the coronavirus in Montgomery County were involved in at least two instances of public interaction that are concerning. 
He said one patient attended a public event on Feb. 28 at The Village at Rockville, a retirement community. Hogan said about 70-100 people attended, and advised that anyone who went to The Village from noon to 6 p.m. that day to contact their healthcare provider. 
Faculty at The Village retirement community will do temperature checks on staff members for every shift, even if they don't have symptoms, and residents will be routinely monitored, Hogan said. 
Another patient was at an event in the Philadelphia area, and had contact with a group of children and staff from a local school district. Once Maryland officials notified officials in Pennsylvania, five schools in the Central Bucks County school district were closed today, Hogan said.
All three people with the coronavirus were on the M.S. Asara cruise ship in Egypt. It's the same ship that has 12 employees quarantined, and the Montgomery County patients are also linked to six confirmed cases in Texas, Hogan said.
He said he directed the state insurance commissioner to require all state health insurers to waive any cost-sharing, co-payments, co-insurance and deductibles related to coronavirus testing.