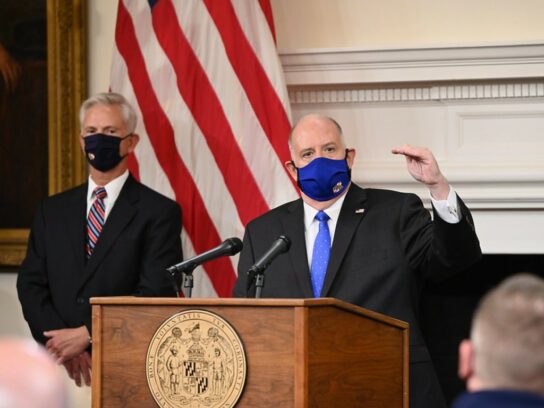 Maryland Gov. Larry Hogan said COVID-19 hospitalizations have increased 53% over the past two weeks.
At a press conference Thursday, Hogan said 863 Marylanders are currently hospitalized with COVID-19, the highest number since June 11.
199 COVID-19 patients are currently in the ICU, the highest number since June 25, Hogan said. Twelve state residents have died from coronavirus in the last 24 hours, and 4,112 residents in total have died from COVID-19.
"We are experiencing an out of control spike across the United States and we are seeing widespread community transmission here in Maryland," Hogan said. Thursday morning, Maryland reported 1,477 new cases over the past 24 hours.
Hogan spoke bluntly about the reality he thinks is ahead for Marylanders.
"I've always told it to you straight, and the sad truth is that the next several months will likely be, by far, the most difficult that we have faced," he said. Hogan once again stressed that a joint effort from all Marylanders is necessary to overcome the virus.
"We truly are all in this together and if we all do our part to rise to this challenge and to meet this moment, we will get through this together," he said.
Hogan said he is taking his own advice about limiting family gatherings and canceled his Thanksgiving plans. He had hoped to have his daughters, son-in-laws and grandkids over at the Governor's Mansion.
"We made the determination to cancel all those plans, everybody is going to stay home with their immediate families and the First Lady and I will be having, hopefully, dinner together by ourselves," Hogan said. He reminded residents that contact tracing shows family gatherings are the most common cause of coronavirus transmission.
THREAD: Maryland Gov. Larry Hogan is holding a press conference now.

He says COVID-19 hospitalizations increased 53% over the past two weeks. @mymcmedia

— Maryam Shahzad (@maryam_mcm) November 12, 2020
Hogan announced that the state will use an additional $70 million in federal Coronavirus Aid, Relief, and Economic Security (CARES) Act funding to further fuel the state's COVID-19 response.
He said the $70 million would be broken down into the following categories:
$20 million: Additional personal protective equipment (PPE)
$15 million: Unemployment insurance measures
$10 million: Rental assistance
$10 million: Vaccination planning
$10 million: Food banks
$2 million: Foster care
$2 million: SNAP and energy assistance
$1 million: Wastewater testing to help detect outbreaks
As the state plans for a COVID-19 vaccine, Hogan announces Maryland will invest $10 million in vaccination supplies, including syringes. @mymcmedia

— Maryam Shahzad (@maryam_mcm) November 12, 2020