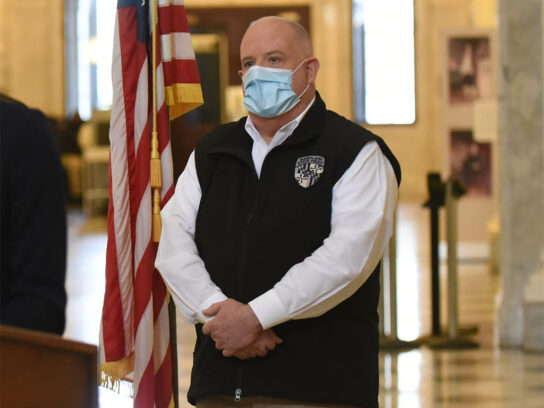 Gov. Larry Hogan signed an executive order requiring Marylanders (over the age of 9) to wear face masks and coverings when inside of retail establishments and while using public transportation.
Hogan announced at a press conference Wednesday that the order will be in effect 7 a.m. on Saturday. The order also requires retail establishments—food establishments, pharmacies, liquor stores, household supply stores, etc.— to require employees to wear face coverings and also implement appropriate social distancing measures.
.@GovLarryHogan has issued an executive order to require face coverings at grocery stores, retail establishments, and on all public transportation to slow the spread of #COVID19. This order will take effect Saturday at 7 a.m.

For information, visit: https://t.co/LC8u0I3oPF pic.twitter.com/fk8TVRCiqU

— Maryland Department of Health (@MDHealthDept) April 15, 2020
"While this order is an important step in our immediate efforts to protect public health and safety, the wearing of masks is also something that we may all have to become more accustomed to in order to safely reopen our state," Hogan said.
The executive order comes after New York Gov. Andrew Cuomo (D) also announced a statewide order requiring its citizens to wear coverings and masks in public.  According to New York Times, New Jersey also has mandated a brood face covering requirement. Montgomery County residents have been required to wear face coverings at grocery stores since Monday.
.@GovLarryHogan announced an executive order requiring Marylanders to wear masks and face coverings at retail stores and while riding public transportation. 😷

Read the full executive order: pic.twitter.com/jXXuR5P9au

— MyMCMedia (@mymcmedia) April 15, 2020
Hogan's executive order says law enforcement can enforce this mandate. Any person "who knowingly and willfully violates this Order is guilty of a misdemeanor and on conviction is subject to imprisonment not exceeding one year or a fine not exceeding $5,000 or both."
The order will remain in effect until further notice or until the state of emergency is lifted.
How to Find a Face Mask, Covering in Montgomery County
Many in Montgomery County have been wondering how to obtain their own face masks and covering. On Friday, we asked our Facebook followers if they know anyone making masks and the response has been overwhelming.
Here are two stories about where to buy a mask in Montgomery County:
Five Places in Montgomery County Selling Face Masks to the Public
UPDATE: Five More Places in Montgomery County Selling Face Masks to the Public
Here's information on how to make a mask: 
Here are additional suggestions from CNET.