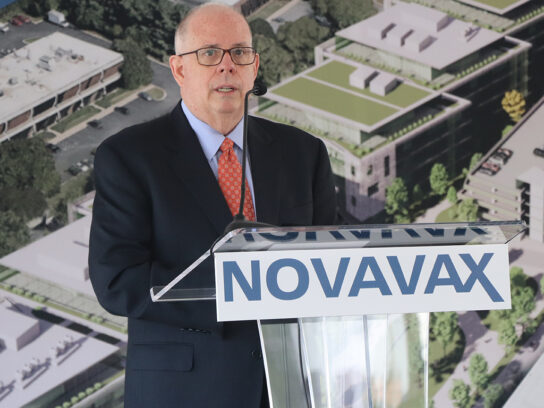 Gov. Larry Hogan and other leaders visited Gaithersburg on Thursday to tour the site of Novavax's future global headquarters.
More than a year ago, Novavax began developing a promising COVID-19 vaccine. Stan Erck, the president and CEO of Novavax, said that Novavax is completing phase three of vaccine trials and results have been promising.
"I'm happy to say that the data are coming very soon, in fact, we hope to announce those data next week," Erck said.
Former CDC director Dr. Robert Redfield will serve as a strategic adviser to Novavax. He's been advising Hogan's response to the pandemic since the beginning of the year.
Council President Tom Hucker said he was excited that the expansion of Novavax will bring 500 more jobs to Montgomery County.
County Executive Marc Elrich praised the Gaithersburg City Council for being intentional about how the 180,000 square foot property would be used. Elrich said the council had previously received other proposals to use the property on 14 Firstfield Road for housing, car dealerships, or storage units.
Here's the moment at this morning's press briefing when @GovLarryHogan accidentally unveiled @Novavax's new 180,000 square feet campus to house its future global headquarters. @mymcmedia pic.twitter.com/n4Ypi2qURm

— Deirdre Byrne (@DeirdreByrneMCM) June 10, 2021
"They had the foresight to wait for something that was important."
Expanding Novavax in Gaithersburg continues to place Montgomery County's biotech companies on the forefront the nation's fight against infectious diseases.
Hogan said, "While COVID-19 put the work of Novavax into the spotlight over the past year, your life-saving contributions to science and medicine don't stop there. You have been a valued member of Maryland's biotech community for decades, and we are so pleased that Novavax will continue its life-saving work here for many years to come."